New emoji for persons with disabilities on the horizon
According to Ace Ratcliff at the Huffington Post, Disabled People (Might) Finally Get Emojis That Represent Us, changing a scenario that currently has only one of 2,666 emojis representing persons with disabilities. Apple recently unveiled a proposal to the Unicode Consortium, suggesting 13 new emoji developed in consultation with community organisations like the American Council of the Blind, the Cerebral Palsy Foundation, and the National Association of the Deaf.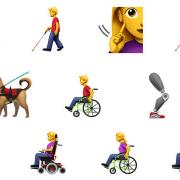 13 new emoji proposed by Apple
Isabella Carapella/HuffPost/Apple
The author notes that the lack of emojis is just one way in which persons with disabilities are underrepresented in society, stating that 'Apple's 13 proposed emojis may be what society needs to recognise that disability representation is sorely needed and long overdue'.