​The Geneva Digital Atlas represents the most comprehensive mapping of digital policy actors and Internet governance scene in Geneva. The Atlas provides in-depth coverage of the activities of over 40 actors, including analysing policy processes and cataloguing core instruments and featured events.
---
Read the Geneva Digital Atlas
WHY does technology meet humanity in Geneva?
EspriTech de Geneve
(Tech spirit of Geneva)
Over the centuries, Geneva has been a meeting place between technology and humanity. Today, once again, in Geneva and worldwide, we find ourselves at a turning point facing both changes and challenges
triggered by fast technological growth. As humanity steps out of its comfort zone into the new unknown, certainty ends, opportunity begins, and risks increase.
This text takes us on a historical tour to explore Geneva's contribution towards a social contract that addresses technological development's benefits and risks. As we seek social contracts for the future, we invite you to examine how your countries and communities' cultures and intellectual histories have dealt with the interaction between technology and society.
Read more on EspriTech de Geneve, including its' historical, philosophical, and theological origins.
WHERE does technology meet humanity?
WHEN did this interplay between technology and humanity begin?
A timeline of tech-humanity interplay in Geneva
01-Jan-1536

Calvin's theology had a massive impact on science, technology, enterpreneurship,...

28-Jun-1712

Jean-Jacques Rousseau, born in Geneva on 28 June 1712, was...

13-Mar-1720

Charles Bonnet (b. 1720, Geneva), was a naturalist, botanist, lawyer,...

01-Jan-1755

François-Marie Arouet (1694–1778), better known as Voltaire, was one of...

15-Jun-1816

Mary Shelley, the British writer, started writing 'Frankenstein' in 1816...

26-Nov-1857

Ferdinand de Saussure was a Geneva-born linguist, whose book 'Course...

09-Feb-1863

17-May-1865

The International Telecommunication Union (

ITU

) is a UN specialised agency...

01-Jan-1948

Founded in 1906, the International Electrotechnical Commission (IEC) is the...

04-Jul-1948

01-Jan-1949

The International Organization for Standardization (ISO) is a non-governmental international...

14-Jun-1986

01-Jan-1995

The World Trade Organization (WTO) is an intergovernmental organisation that...

10-Dec-2003

07-Jan-2006

14-Oct-2014

The Geneva Internet Platform (GIP), initiated by the Federal Department...
A timeline of the Geneva Digital Atlas
The Geneva Digital Atlas builds on 20 years of research, training, and policy-shaping work by DiploFoundation and the Geneva Internet Platform (GIP), including:
2000: Establishment of the first comprehensive taxonomy of Internet governance and digital policy
2003: Publishing of An Introduction to Internet Governance, the first reference work on Internet governance policy, now in its seventh edition and available online in 10 languages
2012: The study of the Geneva Internet Initiative (GII) (commissioned by EDA); the Study outlined the basic mapping of Internet governance actors and processes in Geneva, it made recommendations, and set the methodology for covering Internet governance in International Geneva
2014: The Geneva Internet Conference, which addressed critical issues, gaps, and future developments in Internet governance and digital politics. The Conference set in motion the Geneva Internet Platform (GIP)
June 2020: The conference Navigating Geneva Digital Landscape which revisited the Geneva digital governance scene
November 2020: The Launch of the Geneva Digital Atlas
November 2022: The Launch of the Geneva Digital Atlas 2.0
Other relevant research:
WHAT are the main technologies and digital policies addressed in Geneva?
Taxonomy
The digital policy issues and processes included in the Atlas are analysed according to the Geneva Internet Platform's Digital Watch observatory featuring over 40 digital policy areas, classified under 7 broad clusters (baskets).
This taxonomy was first developed in 1997 by Jovan Kurbalija, Executive Director of DiploFoundation and Head of the Geneva Internet Platform (GIP) and then introduced in the book An Introduction to Internet Governance, now in its 7th edition. It was later adopted in DiploFoundation's Internet governance courses.
The taxonomy is under regular development to account for emerging trends and new developments in this vibrant process.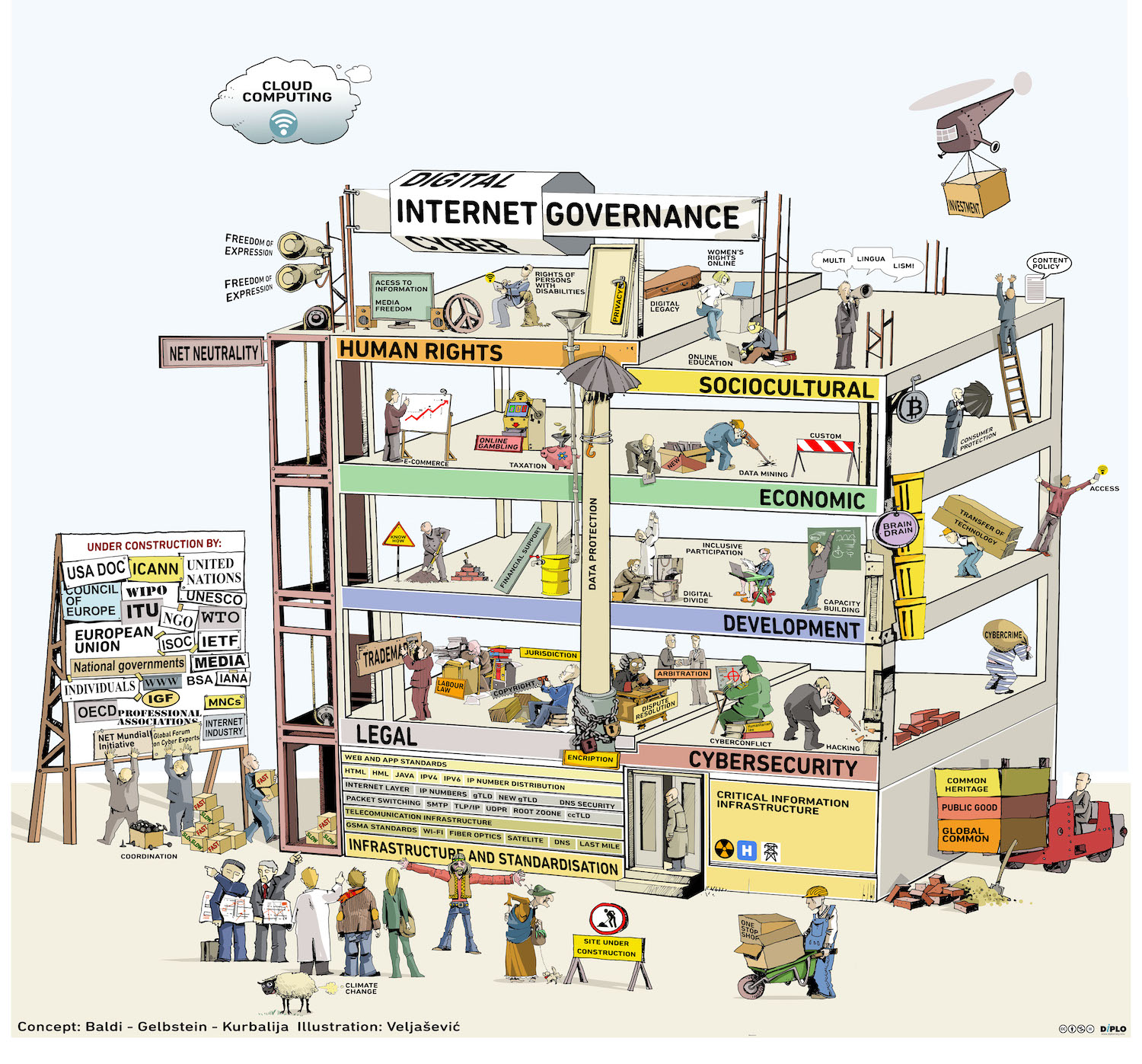 The information included in the Geneva Digital Atlas is updated as of February 2023. To add further resources regarding your organisation, update the existing information, or include additional digital actors, please email us at atlas@diplomacy.edu.
Read more on digital technologies and policy issues addressed in Geneva.
HOW do legal and policy instruments facilitate digital governance?
Different instruments are used to implement regulations, policies, and programmes. In the digital realm, there is a mix of traditional instruments applied to digital issues (conventions and standards) and new approaches developed specifically for digital issues (e.g. online dispute resolution mechanisms).
Read more about legal and policy instruments that facilitate digital governance.
WHO are the main digital policy actors in Geneva?
As the WHO section of this publication shows, more and more digital issues are being addressed by international organisations. In the coming years, multilateral diplomacy will be dominated by this trend
of digitalising traditional policy issues, such as health, trade, and the protection of people in need.
Read more about the main digital policy actors in Geneva and detailed info on the digital activities of each 46 actors – events, instruments, and initiatives – organised by digital policy issues (e.g. e-commerce, cybersecurity, privacy).
X-Ray of interlinkages in International Geneva
We observed where the links on the websites of the actors of this publication lead to. The more links on a website lead to other actors, the more collegial it is considered to be.
Read more about the interlinkages among digital policy actors in International Geneva.