G7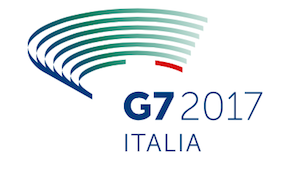 The G7, otherwise known as the Group of Seven, is an assembly of world leaders who meet annually, in the Leaders' Summit, to discuss global issues. It includes Canada, France, Germany, Italy, Japan, the United Kingdom, and the United States; the European Union is also represented within the G7.
In addition to the annual summit, the Group also works throughout the year to tackle important contemporary topics such as the economy and climate change. Although the Group discusses and creates global policies, each member is free to determine whether it wishes to follow those policies.
In 2011, the Group adopted the Deauville Declaration, in which several Internet-related issues were addressed. These included, among others: freedom of expression, freedom of access to information, protection of personal data, network neutrality, interoperability and convergence, protection of intellectual property, security of network and services, child online safety, access, and the multistakeholder model of Internet governance.