WSIS Forum 2016
Event report
In May 2016, the observatory participated in and provided just-in-time reports from the WSIS Forum 2016. Access the following resources:
Your guide to WSIS Forum 2016:
[

NEW

] The GIP's WSIS Forum Report is now available
The
WSIS Forum Report,
published by the Geneva Internet Platform on 10 May 2016, sums up the forum with reflections and summaries of discussions. The highlights: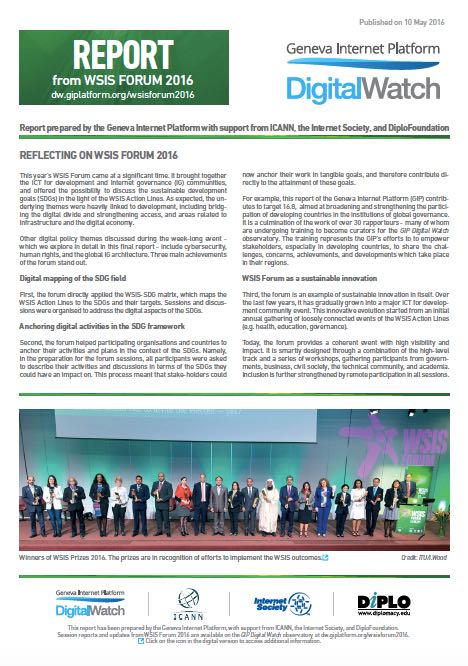 Our reflections on the forum, in which we identify three main achievements of WSIS Forum 2016;
A summary of the high-level policy sessions;
Thematic summaries of the sessions by area, including development, cybersecurity, human rights, infrastructure, e-commerce, and the global Internet governance architecture;
WSIS Forum 2016 in numbers;
Upcoming events related to sustainable development;
The WSIS-SDG matrix;
Visuals and quicklinks to the WSIS Action Lines and SDGs;
How to use the GIP Digital Watch observatory;
The team behind the GIP's reports.
Download your report
This report has been prepared by the Geneva Internet Platform, with support from ICANN, the Internet Society, and DiploFoundation.
Provided by the Geneva Internet Platform, supported by: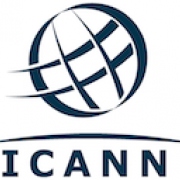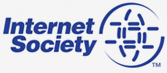 WSIS Forum 2016 Session Reports
The Geneva Internet Platform is providing live updates and just-in-time reporting from sessions. Session reports are available above, and a final WSIS Forum summary report was made available on 10th May.
Sessions organised by the Geneva Internet Platform
The GIP will host the following sessions and events:
Event announcement
The WSIS Forum 2016 will be held from 2-6 May 2016 at the International Telecommunication Union (ITU) headquarters, Place des Nations, Geneva, Switzerland. The forum represents the world's largest annual gathering of the ICT for development community, and is coorganised by the ITU, UNESCO, UNDP, and UNCTAD, in close collaboration with all WSIS Action Line Facilitators/Co-Facilitators (UNDESA, FAO, UNEP, WHO, UN Women, WIPO, WFP, ILO, WMO, UN, ITC, UPU, UNODC, UNICEF, and UN Regional Commissions). The forum has proven to be an efficient mechanism for coordination of multistakeholder implementation activities, information exchange, creation of knowledge, sharing of best practices and continues to provide assistance in developing multistakeholder and public/private partnerships to advance development goals. It will provide structured opportunities to network, learn and participate in multi-stakeholder discussions and consultations on WSIS implementation. The event builds upon the tradition of annual WSIS May meetings, and its format is the result of open consultations with all WSIS stakeholders. Emerging trends in 11 WSIS Action Lines both in terms of policy and technology are produced as an outcome of WSIS Forum in a multistakeholder environment on an annual basis. The WSIS Forum 2016 Open Consultation Process on the Thematic Aspects and Innovations on the Format aims at ensuring the participatory and inclusive spirit of the WSIS Forum 2016 by actively engaging governments, civil society, the private sector, and intergovernmental organisations in the preparatory process. The agenda and programme of the WSIS Forum will be built on the basis of the official submissions received during the Open Consultation Process. For source and more information, visit the
event website
. |full_html