Consumer Unity & Trust Society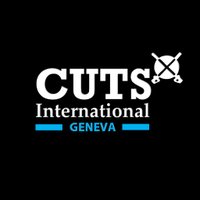 Acronym: CUTS International Geneva
Address: 37-39, Rue de Vermont, 1202 Geneva, Switzerland
Website: https://www.cuts-geneva.org/
Stakeholder group: NGOs and associations
Since its establishment in 1983–84, CUTS International Geneva has been a leading southern voice in the space of trade, economics, and development to ensure consumer sovereignty. As digitalisation accelerated across sectors, CUTS has undertaken many research, advocacy, networking, and capacity building initiatives, within the realm of the digital economy to enable consumers, particularly the poor and marginalised social groups, to achieve their right to basic needs, sustainable development, and good governance through strong consumer movement. Being a global independent non-profit, non-governmental organisation (NGO) working on public interest issues, CUTS addresses four main thematic areas: Trade, Economic, Regulation, and Governance. Within these focus areas, CUTS has undertaken multiple initiatives promoting competition, investment, regulation, trade, and governance reforms across sectors, through evidence- based research in least developed and developing countries. This is being done through a strongly rooted presence across India and at the global level including Lusaka, Nairobi, Accra, Hanoi, Geneva, and Washington, D.C.
CUTS International Geneva is a non-profit NGO that catalyses the pro-trade, pro-equity voices of the Global South in international trade and development debates in Geneva. Through its work, it has made a name for linking people and issues in the world of multilateral trade with their counterparts in related policy areas. These include regional integration, agriculture, environment, competition, investment, and consumer protection, among others. Its vision is to pursue social justice and economic equity within and across borders by persuading governments and empowering people. Its mission is to establish and promote a pro-trade pro-equity credible southern NGO voice as well as the means to achieve this in the policymaking circles working on trade and development and other related issues in Geneva. Its objectives are to:
Improve inclusivity in relevant policymaking processes and decisions through better participation of developing countries' stakeholders, including at the grassroots level.
Build capacity of policymakers, negotiators, and other important stakeholders through demand- driven and needs-based research and analysis.
Contribute to a deeper and broader understanding of relevant issues through targeted and research- based outputs.
Enhance policy coherence at all levels by analysing and raising the profile of issue linkages.
Facilitate mutual learning through information and knowledge sharing across networks.
Stimulate common interests among developed and developing countries through advocacy, dialogues, and networking.
CUTS adopts a bottom-up approach that promotes the engagement of key stakeholders in designing and implementing economic development policies, from the national to the international level. Their successful work methodology relies on research and analysis to inform advocacy and training activities, involving networks of beneficiaries at all stages. With offices in India, Kenya, Zambia, Vietnam, Ghana, Geneva, and Washington DC, CUTS's family of organisations has made its footprints in the realm of economic governance across the developing world and beyond. As a vibrant advocate of South-South Cooperation, CUTS has been forming and maintaining strategic alliances with like-minded organisations in over 40 countries, particularly in the developing world. At the international level, it has established formal institutional relationships with several international governmental organisations, which their work seeks to influence. These are the World Trade Organization (WTO) – Accredited NGO; the United Nations Conference on Trade and Development (UNCTAD) – Observer Status; East African Community secretariat (EAC) – Memorandum of Understanding; and the United Nations Framework Convention on Climate Change (UNFCCC) – Observer Status.
Digital activities
CUTS's work and expertise span five functional areas:
International trade and development
Competition, investment, and economic regulation
Consumer safety
Human development
Consumer protection and good governance
CUTS International Geneva and its sister CUTS organisations in India, Kenya, Zambia, Vietnam, and Ghana have made their footprints in the realm of economic governance across the developing world. Their activities stretch from Asia to Africa, South America, and beyond.
Digital policy issues