Internet users in Uganda facing charges for online freedom of expression
During 2017, at least 25 Ugandans faced charges related to freedom of expression online, according to The Observer's Digital freedoms: 25 users face trial over online posts. Dorothy Mukasa, acting chief executive officer of Unwanted Witness said that 'The year 2017 registered the highest number of Ugandans ever arrested for their online expression. These arrests are clearly targeted crackdowns on the free flow of information and speech on the internet'. Mukasa called for changes to existing cyber laws that are used to criminalise online free speech and requested prioritisation of the Privacy and Data protection Bill to protect from abuse of personal data.
In spite of this, the Freedom House Country Profile for Uganda for 2017 notes an incremental improvement in Internet freedom in Uganda during 2017.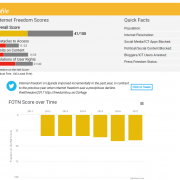 Source: Freedom House