Data is at the core of modern society, from our digital footprint via e-mail and social media, through to big data analytics. An analysis of the role of data in digital policy reveals that data is also at the core of most policy areas. Artificial intelligence is further increasing the power and relevance of data. Cross-border data flows is challenged by policy decisions, in a similar way as the movement of goods, services, and people across borders. Data localisation laws, for instance, require companies to keep data on servers located within national territory. The developments related to data have driven the need for discussions on data and digital policy, including data governance.
The role of data in digital policy: Data as a tool, data as a topic
Data is both a tool, used to develop better policies on health, trade, migration, and climate, to name just a few, and a topic, which calls for discussions on privacy, security, e-commerce human rights, and other important issues. The illustration below identifies the focus areas, main concerns, and key actors, for each of the issues.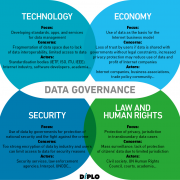 The governance of data: An interplay between data and digital policy
How does data intersect with digital policy? What is the relevance of data within each digital policy issue? Our ongoing research looks at the role, impact, and relevance of data across more than 40 Internet governance issues tackled by this observatory. These include privacy, security, standards, telecommunications infrastructure, jurisdiction, e-commerce and trade, access, digital divide, capacity development, and many other digital policy areas.