Tech, services trade, and the WTO of the future
Event report
[Read more session reports from WTO Public Forum 2019]
The session moderator, Ms Tatiana Prazeres (Senior Visiting Fellow, University of International Business and Economics), started by explaining the role of trade in development and highlighting the USA and China's isolation when it comes to global trade. She asked the panellists to discuss how digitalisation is affecting trade, and asked what the future of trade in services is.
Mr Marcelo Olarreaga (Dean, Geneva School of Economics and Management, University of Geneva) noted the social and economic inequality that is present in different regions of the world. However, he remarked that global trade has reduced inequality and increased the number of highly skilled workers over the last few decades.
Olarreaga pointed to trade as an accelerator of growth. He emphasised the role of platforms in reducing the cost of exports in low-income countries. Moreover, he noted that trade and technological progress must go hand in hand and said that e-commerce has a rapid growth, more so than international trade.
Mr Guijun Lin (Dean, Academy of China Open Economy Studies, UIBE) talked about global value chains (GVCs) and 5G. He said that 5G is transformative in digital trade because of its high speed, high quality, and high reliability. He said that small countries should take advantage of 5G when it comes to conducting their business.
In addition, Lin said that the USA has taken 5G implementation very seriously and considers it a national security issue. He gave the example of the privacy and security issues related to Huawei and said that China's solution to the attack by the USA is to create new regulations and infrastructure. According to him, if the two countries do not work together, there is a risk for global international trade.
Mr Xiaopeng Yin (Department Chair, Department of International Trade, Associate Professor, School of International Trade and Economics, UIBE) highlighted the technological progress in international trade. He mentioned the example of ALIBABA and its impact in creating jobs in China.
Ms Hanna Norberg (Founder & CEO, TradeEconomista) started by explaining how tech can change the future of trade. She mentioned blockchain and its impact in decentralising information. She also said that blockchain was invented to increase trust between different parties, as it can offer greater transparency of information and it is hard to manipulate. Moreover, Norberg noted that we need government initiatives on blockchain and to educate consumers. Finally, she pointed out the importance of investing in blockchain for better global trade.
Related topics
Related event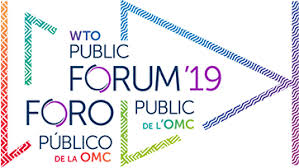 Related technologies