Data as the key commodity in trade
Event report
[Read more session reports from WTO Public Forum 2019]
Moderated by Mr Pascal Kerneis (Managing Director, European Services Forum), the session addressed data from the perspective of trade.
Mr Jazz Kang (Technology, Strategy and Innovation Executive, Swisscom Blockchain AG) focused on digitalisation in trade. Swisscom is currently working on 'facilitating mechanisms or technology that would enable companies to share information in such a way that they are not revealing any information to their counter-parties'. According to Kang, the objective is to provide a mechanism that would allow people to become 'custodians' of data, enabling the secure and confidential management of information so that only those who own data have actual control over it.
Mr Tilmann Kupfer (Vice President, Trade and International Affairs, BT Group plc) stated that companies are transforming their businesses by becoming more and more digitised, thus making their business operations more efficient. Therefore, he notes that imposing restrictions on the free flow of data could be a serious problem to the modern economy.
Kupfer reflected on a recent Organisation for Economic Co-operation and Economic Development (OECD) study and lists four reasons for why governments impose restrictions on the free movement of data, namely: privacy, regulatory requirements for local storage of data, national security reasons, and national industrial policy.
With regard to privacy, Kupfer refrained from describing the General Data Protection Regulation (GDPR) of the EU as a 'trade barrier' and asserts that data must travel in a protected way.
According to Ms Ashley Navaie (Founder and CEO, Trade Haus), data, if applied responsibly, presents a great opportunity for the transformation of the African continent.
She addressed some of the most pressing issues affecting Africa, such as the unknown potential of agriculture, long-established patterns of gender inequality, and the substantial increase of the young population. To tackle these critical issues, Navaie noted that solutions can be found in technological innovations and analytical and data-driven applications. In this regard, she gave an example of how agricultural risk management platforms that leverage artificial intelligence help farmers mitigate risks to crops and livestock or how real time and historical data on weather enable farmers to make informed predictions on precipitation, growth stages, and more.
Navaie also addressed some of the most pressing technological challenges, such as data scarcity, fragile data infrastructure, and limited regulatory frameworks. She also highlighted the need to engage youth and to invest in the education of next-generation data scientists.
Ms Anna Jerzewska (Independent Consultant, trade policy and customs) sees trading goods as data transactions and as a series of data points. To that end, she referred to an estimation by the World Customs Organization that any international transaction includes at least 200 data elements that must be inserted into different systems.
Jerzewska noticed that some of the major setbacks to trade facilitation efforts are related to how companies perceive and navigate the global customs system. She added that instead of focusing merely on what happens at the border, trade facilitation efforts should start with the company and end where the product meets its final client.
Related topics
Related event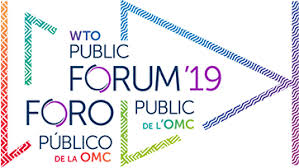 Related technologies