Zero waste living: Speaking the language of a new generation for sustainable habits
23 Mar 2018 11:00h - 12:45h
Event report
[Read more session reports from the WSIS Forum 2018]
Moderated by Ms Alexis McGivern, YouTuber, Rogue Gone Vogue, the session focused on using vlogging and blogging to achieve the sustainable development goals (SDGs). McGivern defined zero waste as a philosophy that encourages working towards creating little or no trash that goes to landfill. She added that the concept has become popular in recent years with over 870 000 search results on zero waste, 46 000 on zero waste living and 80 000 on zero waste home, as per her recent search on Instagram.
Ms Josephine Vermilye, YouTuber, Rogue Gone Vogue, who works with McGivern, mentioned that her passion for sustainability was born after working with some fashion brands that did not have sustainability at the core of their operations. Their work is aimed at inspiring their viewers and not preaching to them or directing them on how to be sustainable.
Ms Florine Hofmann, blogger, The Wasted Blog, said her passion was born after realising that she was producing a lot of waste, even when she was consuming only organic food and supporting organic producers. Through her blog, she has documented the lessons she has learnt to inspire others to adopt zero waste.
Ms Xenya Scanlon, sustainable fashion expert and writer for Green Stilettos, had been working in a sustainability profession with the United Nations and other organisations, and was interested in fashion. She founded Green Stilettos to create positivity in the sustainability sphere. She referred to goal 12 – responsible consumption and production – and #SocialMediaforSocialGood as her favourite SDG and hashtag respectively. She acknowledged that information and communication technologies (ICTs) can change the way that people interact with fashion, and improve businesses. When asked to estimate the kilos of textiles that are thrown away on average each year by an individual, the audience guessed between five and ten kilograms, but Scanlon confirmed that it is thirty kilograms per person, per year in the United Kingdom.
Mr Raphaël Surmont, YouTuber, Raphaël Surmont Drum Channel, showed a video of his work over the past few years and focused on how to bring interesting content to audiences. He highlighted content strategy as an important aspect when preparing content to ensure that the right communication channels are used for the right audiences. He shared insights from a project with RedBull, noting that different formats of content are good for different audiences such as YouTube, Instagram, Facebook, websites, etc.
Responding to a participant, Mr Ryan Kelly, from a major UN group on children and youth, on the question of the lifecycle of content on the Internet and approaches to getting buy-in, Surmont said that content creators always have to think ahead and create different formats so that content is not boring. McGivern, who mentioned that she was also a policymaker, emphasised that both bottom-up and top-down approaches were needed for consumer buy-in and policy-making. Vermilye noted that there are discussions and films such as Blue Planet which speak about nature. Hofmann encouraged sustainability champions to live by example, while Scanlon added that usually 10% of the population embraces change, but a threshold of 60% makes something standard behaviour.
On the question of consumer awareness, Scanlon and Vermilye agreed that transparency from producers is key to ensuring sustainability. Scanlon mentioned that some brands usually give a breakdown of the costs of items. When asked about technical information on the subject, Scanlon noted that there is no single body that regulates the fashion industry, unlike many other industries. She also added that labels on clothing on most occasions only show the country the item was made in, and washing instructions, completely omitting the entire production chain.
There was no general agreement on whether content from vlogs, blogs or YouTube videos should be integrated into teaching curriculums, but Kelly wondered how much power multinational organisations such as Facebook and Google would be given if they became the source of educational content, and if governments were not tempted to regulate content.
By Sarah Kiden
Related topics
Related event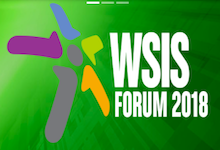 WSIS Forum 2018
19 Mar 2018 09:00h - 23 Mar 2018 18:00h
Geneva, Switzerland