Women in STEM as a business case for a better society
19 Mar 2018 14:30h - 16:15h
Event report
[Read more session reports from the WSIS Forum 2018]
Ms Aurelie I. Adam Soule Zoumarou, ICT minister of Benin, gave the first speech at this session. Adam Soule Zoumarou explained that like many countries in Africa, Benin is also struggling to attract women to Science Technology Engineering and Mathematics (STEM) fields. 'It is not easy due to societal issues,' she said. Persuading parents to encourage their daughters to study in the STEM field, and find financial support is one such issue. Another is motivating young girls to gain digital skills beyond the everyday use of social media platforms. She added that the government in Benin is taking part in the 'Girls in ICT' day and aims to identify issues, and opportunities for young women to opt for in this career choice.
Mr Thomas Schneider, ambassador and director of international relations, Swiss Federal Office of Communications, recognised the challenges that Benin faces, and said that Switzerland also has them. According to Schneider, the sustainable development goals can only be achieved with full participation of girls, and the Swiss government strongly believes in barrier-free and non-discriminatory access to ICTs for women. 'The national digital strategy aims to enable high-quality services and education for all citizens,' he stressed. Schneider also noted that due to historic reasons both in Benin and in Switzerland, women have not been encouraged enough to work in STEM fields, and that this should change.
Giving concrete examples and hard data, Mr Mario Alberto Focil Ortega, titular de la Unidad de Administracion, IFT Mexico, presented the IFT strategy to recruit more women into its labour force. IFT as a telecommunications and broadcasting regulator supports social responsibility, inclusion, diversity, and gender equality. He noted the successes and lessons learned from the Talent Seedbed initiative that prioritised affirmative action towards hiring women. Currently, 47% of employees at IFT are women. Still, 'promotion, scope and more affirmative action' has to be taken to include women from indigenous groups, Focil Ortega stated.
The panel consisting of five women presented their experiences of working in the STEM field, and their advocacy work of supporting women and girls.
Ms Sarah Peers, deputy president of INWES, vicepresident of the Women's Engineering Society, invited the panel to discuss inequality in gender representation.
Ms Ayanna T. Samuels, ICT4D, ICT, gender & technology policy specialist and consultant at SheLeadsIt, stated that gender mainstreaming in policy is needed, and advised the enabling of a pipeline for streamlining talented women in STEM. Samuels presented the good examples of initiatives run by SheLeadsIt where the participation of women was enhanced from 350 girls to 1000 girls in just one year.
Attracting girls to the field was also a concern raised by Ms Liliane Dorveaux, professor at EPF Ingenieurs and vicepresident industrial relations at INWES. Dorveaux said that EFP was initially a polytechnic school only for women, yet in 2018 women now make up only 30-35% of students. She noted that more long-term initiatives, such as an 8-month-long mentorship project by DELL in France, are needed.
Ms Salma Abbasi, CEO and chairperson at eWorldwide Group, focused on the use of technologies for SDGs and capacity-building of women in Africa. 'Partnerships with ministries and intermediaries are necessary to achieve a bigger scale of empowerment of women,' Abbasi stressed. Dynamics and solutions need to be context-specific. The role-model solution has been effective in the work of Abbasi. Mobile Internet as an empowering tool; training labs for women from rural communities to grow their businesses; innovative financial models with banks; and mentorship programmes are all crucial.
Ms Betty Bonnardel-Azzarelli, president of the Society of Satellite Professionals UK, member of the council of WES UK, noted that ICTs are an enabler when linked to mentorship programmes, and that networks build confidence for women in STEM to take on leadership positions. In the UK, monolithic business structures can be broken through by providing internships, and by inviting men and other stakeholders to the discussion.
Mr Brahima Sanou, Development Bureau director, ITU, concluded the session and noted that ICTs are the driving force of the economy and a key driver of the empowerment of women. Sanou emphasised that the ITU is organising 'Girls in ICT Day' across 166 countries, and welcomed more initiatives to include women in STEM fields.
By Jana Mišić
Related topics
Related event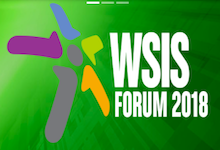 WSIS Forum 2018
19 Mar 2018 09:00h - 23 Mar 2018 18:00h
Geneva, Switzerland