UNESCO OER recommendation
22 Mar 2018 13:15h - 14:00h
Event report
[Read more session reports from the WSIS Forum 2018]
The session was organised by the United Nations Educational, Scientific and Cultural Organization (UNESCO), and was moderated by Ms Zeynep Varoglu, programme specialist, ICT and education communication and information sector, UNESCO.
Varoglu spoke about the first Open Educational Resources (OER) Congress n Paris, and summarised the Paris OER types of action which encourage:
Facilitating understanding and use
Supporting capacity building initiatives
Reinforcing strategic alliances
Encouraging forward-looking actions
Voruglu then gave an account of the second world OER Congress, which was hosted by the government of Slovenia. She said that the first objective had been to examine the recommendations for mainstreaming OER, and to showcase best practices and initiatives in OER policies. The congress brought together five hundred stakeholders from over one hundred countries, including fourteen ministers of education, to produce the 'Ljubljana action plan', and 'world OER congress ministerial statement'.
Voruglu added that there was a resolution to start the process of developing a UNESCO recommendation on OER, targeting mainly sustainable development goal (SDG) 4, which is about inclusive quality education. She admitted that the greatest challenges to using OER are access, language, and cultural issues. Voruglu also shed light on the importance of developing sustainability models, and shared challenges to mainstreaming OER. She encouraged educational stakeholders to:
Develop user-friendly tools to locate and retrieve OER
Adapt OERs to the cultural context where they are used
Ensure accessibility for all learners, including those with disabilities, and those who are economically disadvantaged, all within a framework which ensures gender equality
Ensure electricity and connectivity
Identify the full spectrum of possibilities for innovative sustainability models
Develop mechanisms to financially support sustainability models through adjustment of procurement models, and teacher training in OER
Mainstream OER through the creation, adoption, and implementation of policies supportive of effective OER practices
Mr Gasper Hrastelj, deputy secretary general, Slovenian National Commission forUNESCO, clarified how Slovenia managed to host the second world OER Congress because of its achievements at governmental and OER policy levels. Hrastelj said that Slovenia has governmental acts which regulate the use and mainstreaming of OER in national education systems, and in the private sector. The speaker added that they are working closely with UNESCO in regard to the establishment or adoption of a recommendation on OER through an initiative called the 'Dynamic coalition on Open Educational Resources.' He added that the dynamic coalition on OER would act as a 'workhorse' in mainstreaming OER to join global efforts, and support governments, schools, researchers and NGOs in order to reach a common recommendation. Hrastelj concluded that, since the congress was held, ten EU member states are supportive and would lean towards adopting a recommendation or declaration on OER.
Ms Sophie Touze, president, Open Education Consortium, expert at the Ministry of higher education and research, France, spoke about the OER impacts on accessibility for community having constraints, and the impact on pedagogy through more interactive teaching and learning platforms such as the 'Flipped Classroom.'
Touze also mentioned Massive Open Online Courses (MOOCs) and OER impact on society in terms of ensuring international cooperation, access to information and new literacy. She called for the joining of forces and building partnerships in this regard, such as the example of the Open Government Partnership. Touze also shed light on how work on OER helps in achieving SDGs, by linking academics to their societies, and emphasised the importance of building the capacity of users to find, use, re-use, create, and share OER. This requires the development of sustainability models and supportive policy environments through an international OER repository. She also called for data to be analysed to identify clusters of common action around best practices for resolving issues, successful strategies, and identifying champions to be part of each cluster, and to give clusters the lead to action.
The session then took the form of working groups which focussed on five challenges:
The capacity of users to access, re-use, and share OER
Language and cultural issues
Ensuring inclusive and equitable access to quality OER
Developing sustainability models
Developing supportive policy
The audience then reported back with suggestions to encourage content in different, local languages, urging movement from passive to productive Internet usage, and framing laws and international regulations that are easily understandable to communities.
Participants also shared concerns on whether new learning technologies are actually inclusive or exclusive, especially in terms of language, connectivity, and financial limitations. Some speakers also emphasised the importance of having content representing local people and their realities, as well as creating channels for women to have a voice. On education, the audience suggested that governments monitor educational content and adapt Internet governance policies to context.
By Ines Hfaiedh
Related topics
Related event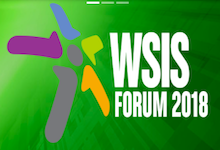 WSIS Forum 2018
19 Mar 2018 09:00h - 23 Mar 2018 18:00h
Geneva, Switzerland