UN regional commissions meeting round table
22 Mar 2018 16:30h - 18:15h
Event report
[Read more session reports from the WSIS Forum 2018]
This interactive round table meeting discussed the importance of synchronising information and communications technology (ICT) activities and processes, as well as the importance of mapping different policy spaces.
It was said during the discussions that, after the WSIS action lines and the sustainable development goals (SDGs) were mapped, it was clear that they were reinforcing one another. The difference between the two is that while WSIS action lines focus on data, statistics, and numbers, the SDGs are more action oriented. The focus is often not on how much has been achieved but on who has achieved what, where.
It was stated that for the UN Regional Commissions it is not clear if the focus for the future should be less on numbers.
From an African perspective and experience, it was important to map WSIS action lines and compare them with the Agenda 2030 goals. A matrix of the 'corresponding aspirations' has been developed for this purpose. Each year, before the WSIS Forum, an Expert Group meeting takes place to discuss important issues to be brought to the forum by a delegation of 3–5 people.
Regional meetings in Africa are mostly sponsored with smaller amounts by the Internet Society and the Internet Corporation for Assigned Names and Numbers (ICANN) to cover basic costs. Some of the most important platforms where all stakeholders meet in Africa are the African Regional Forum, several subregional African forums, as well as the African Internet Governance Forum. All of these forums and their activities are mentioned in the WSIS report.
The round table mentioned several surveys and the importance of coordinating them in order to avoid duplicating t work in the future.
The UN's e-government survey, i.e., the Member states questionnaire, asks about national strategies and digital policies, as well as e-government indicators. Strong suggestions have been made for the synchronisation of survey results in order to recognise and harmonise the next actions for development.
In relation to ICT indicators, a task group is working on tracking SDG implementors. Bangladesh, Brazil, and Uruguay are some of the national members, as well as different UN agencies. Current work is focused on coming up with more ICT indicators beyond the existing seven in the global SDG data base. It is also important to see if the existing indicators are still relevant. A suggestion was made to create a so-called WSIS 2030 profiling map, in order to see which processes fit where.
By Aida Mahmutović
Related topics
Related event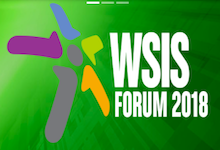 WSIS Forum 2018
19 Mar 2018 09:00h - 23 Mar 2018 18:00h
Geneva, Switzerland