Promotion of the ideals and principles of the United Nations among the youth
22 Mar 2018 09:00h - 10:45h
Event report
[Read more session reports from the WSIS Forum 2018]
Mr Fayez Alrafeea, student at the University of Geneva and moderator of the session, started by calling attention to the need to prepare the youth for future jobs, by giving them access to information and communications technology ­(ICTs). He also presented some figures on youth employment.
Ms Iman Sarteur, Geneva International Model on the United Nations (GIMUN), called attention to the importance of other skills that are not related to ICTs, but are also very relevant, such as communication and collaboration skills. She also highlighted how ICT-based simulations can help young people in the process of personal development and in gaining the experience that they will need in their careers. The use of social media and ICTs can foster the development of critical thinking.
Mr Dario Piselli, research officer for the 'How to Break the Gridlock in Global Health Governance' project, the Graduate Institute of Geneva, and member of the UN Sustainable Development Solutions Network (SDSN), started by explaining the goals of the SDSN. The network was born to help the UN in the development and implementation of the sustainable development goals (SDGs), mobilising expertise from academia and seeking to turn ideas into concrete solutions, with the help of the private sector. Piselli is in charge of linking experts and donors with young professionals developing solutions. According to him, ICTs and access to knowledge are playing a key role in reducing youth unemployment. Even though access to ICTs is still uneven, the participation of young people in the civic life of their countries is greater than before because of ICTs. Moreover, young people, particularly in developing countries, take advantage of the opportunities of online learning. Piselli remarked that access to knowledge is part of a broader system of support, which includes transforming knowledge into practical solutions. In that sense, universities need to build start-ups which function as a spin-off from university research to transform knowledge into concrete products and applications.
Some personal experiences were shared by Mr Michael Sleiman, a private sector representative from a start-up called Triend, a social media platform for travellers around the world that offers them the opportunity to share their experiences with like-minded travellers. The platform combines reviews, travel stories and booking. Triend is also on the way to developing artificial intelligence (AI) that would plan customised trips for users. Sleiman mentioned that the group of colleagues who created Triend had to self-teach, because they did not get the skills to run a business from the traditional education system. There is need to provide youth with the skills that they will need for the job market of the future.
Ms Astadjam Bamanga Abbas, International Telecommunication Union (ITU), shared some real-life stories to illustrate her point. The first was about a young man who studied hospitality in Geneva, but ended up joining a code boot-camp, started earning more as a programmer and was professionally fulfilled. The second young man wanted to teach small children in Ghana about ICTs. He used a chalk board to draw computer functionalities and shared a picture of it online. It went viral and Microsoft gave him support and provided computers to the class. Abbas mentioned that the UN launched a global initiative called 'Decent jobs for youth', which has eight priorities for action. Within the initiative there are many partners, such as UN entities, the private sector, academia, and the media. To expand the network, the ITU and the International Labour Organization (ILO) launched the 'digital skills for decent jobs for youth', aiming to provide 5 million young people with digital skills.
Mr Banjamin Aebi, vice-president of the Young Christian Democrats party in Geneva, and a student of international relations in the University of Geneva, mentioned that ICTs brought people closer and gave young people the opportunity to show their talents to others. They also allowed crowdfunding for different causes, which is very interesting in political mobilisation, because a smaller group of people can promote change. ICTs also bring people closer in a more horizontal manner, breaking stereotypes and creating a tremendous opportunity for democracy. However, users need to be aware of emerging threats, such as fake news.
By Marilia Maciel
Related topics
Related event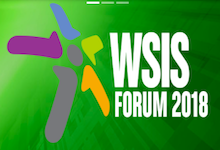 WSIS Forum 2018
19 Mar 2018 09:00h - 23 Mar 2018 18:00h
Geneva, Switzerland