Partnership TG on ICT for the SDGs
19 Mar 2018 16:30h - 18:15h
Event report
[Read more session reports from the WSIS Forum 2018]
The objective of the session was to share information on the draft framework to measure digital skills, created by the Global Alliance to Monitor Learning (GAML).
Moderator Mr Alexandre Barbosa, head of the Centre of Excellence in Information and Communications Technologies (CETIC) initiated the discussion by highlighting Sustainable Development Goal (SDG) 4 on education, especially section 4.4 which focuses on skills for work, and the thematic indicator 4.4.2 which is, 'the percentage of youth/adults who have achieved at least a minimum level of proficiency in digital literacy skills.' Pointing to existing links between task force and WSIS action lines C11, C12 and C14, and also with the SDGs, Barbosa highlighted the complexity of learning, and the challenges of data and indicators to monitor SDG 4 targets.
He said that for finding a proper framework to measure and manage digital skills in different countries, GAML, coordinated by the UNESCO Institute for Statistics (UIS), was assigned the responsibility for reaching consensus on all indicators under SDG 4 that focus on learning outcomes. With that aim GAML, with the support of the University of Hong Kong Centre for Information Technology in Education, has worked towards creating a framework for digital skills that would be applicable around the world. This framework is based on the European Commission's Digital Competence Framework for Citizens (DigComp 2.1).
Mr Manos Antoninis, director of the Global Education Monitoring Report (GEMR) / chair of Task Force 4.4, Global Alliance to Monitor Learning (GAML), shared his thoughts on the objective behind GAML in developing a global framework of reference on digital literacy, and then mapping the different instruments with the framework and the inception. He further elaborated on the three steps taken by the University of Hong Kong Centre for Information Technology in Education to date, which includes collecting digital literacy frameworks and use cases; in-depth consultation; and initiating an online consultation which is currently open. Antoninis also shared findings on seven competencies: hardware and software operations, information and data literacy, communication and collaboration, digital content creation, safety, problem solving, and the career-related competencies of the framework. He also elaborated on how the competencies can be mapped with immediate relevance and aspirations.
Ms Tatiana Jereissati, coordinator of UNESCO projects at the Centre of Excellence in Information and Communications Technologies (CETIC) shared how ICT skills in Brazilian schools are being measured using different research methodologies, and that her organisation has published National ICT indicators in different services. Jereissati further elaborated on the ICT in Education survey, which was conducted in Brazil, with work currently underway on the eighth edition, having a sample size of 3000 schools. The objective of this survey is to identify issues regarding access to, and pedagogical uses of, ICT in Brazilian schools. She also said that the survey measures digital skills based on access, use, and perceived benefits – to students, teachers and principals, so that based on those perceptions they can work towards creating tangible outcomes in future.
Ms Diana Parra Silva, head of Digital Agenda / Chief International Officer, Agency for e-Government and Information and the Knowledge Society, Office of the President of Uruguay, shared her observations on the Uruguay Digital Agenda, which aims to 'transform the country with equity'. Uruguay, she said, is working to close the digital divide through evidence-based policy making. Parra Silva said that they have conducted a kids' online survey to understand the skill levels of children. In light of the results the children have been clustered based on their skills and usage.
In concluding the session, Barbosa elucidated that various Latin American countries were measuring ICT skills based on self-declaration. Chile for example has developed a curriculum guideline on how to measure ICT skills based on a matrix, while Mexico has initiated a pilot programme in this regard. He also reiterated that while more work needs to be carried out in terms of SDG 4, the challenge today is to define the proper indicators.
By Amrita Choudhury
Related topics
Related event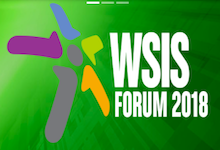 WSIS Forum 2018
19 Mar 2018 09:00h - 23 Mar 2018 18:00h
Geneva, Switzerland