Multistakeholder decision making in global internet governance
22 Mar 2018 13:15h - 14:00h
Event report
[Read more session reports from the WSIS Forum 2018]
Dr William J. Drake, international fellow and lecturer, department of communication and media research, University of Zurich, started by noting that since WSIS Tunis in 2005,, intergovernmental bodies have been endorsing multistakeholder decision making processes. Although, this recognition is mostly related to technical aspects related to the governance of core Internet resources. He stressed the need to apply multistakeholder decision-making processes to a broader concept of Internet governance, which include the idea of Internet use. Drake pointed that in these governance spaces, most policy-making activities only have consultations and not a full multistakeholder processes based on an equal footing and consensus-oriented decision-making. He then asked the speakers to give their views about what can be done to promote multistakeholderism development and expansion.
Dr Joanna Kulesza, assistant professor, faculty of law and administration, University of Lodz, brought attention to the need to look more carefully to examples provided by some international law regimes. She noted that they provide interesting insights into the development of practices able to address some challenges faced by Internet governance and its evolving multistakeholder decision making process. Kulesza indicated that legal regimes like space law, international nuclear energy law, and practices like the Codex Alimentarius, provide lessons indicating how to develop effective interactions between governments and non-government actors, and could provide guidance for the future development of the multistakeholder model.
Mr Larry Strickling, executive director of the Collaborative Governance Project, Internet Society, participating remotely, indicated that there is a long record of multistakeholder decision-making practices been used in other areas in the past. He also noted that there are actually great opportunities to expand this policy-making approach to other areas of Internet governance. Strickling stressed that while recognising the potential of multistakeholderism to overcome the overall sense that existing policy-making models are not delivering what society needs, it is important to start to pay more attention to the implementation of multistakeholder process outcomes. In his view, the implementation of multistakeholder based process outcomes needs more attention and should be an important element guiding the design and operation of future initiatives.
Mr Markus Kummer, chair of the Internet Governance Forum Support Association (IGFSA), former member of the Internet Corporation for Assigned Names and Numbers (ICANN) board of directors and former executive coordinator of the Internet Governance Forum (IGF), initially pointed out that he was expressing his personal views and not the ones from the institutions he represents. Kummer then noted that ICANN was launched under very optimistic times when globalisation and free trade were key elements shaping the international agenda. He also stressed that despite its actual multistakeholder framing, ICANN was initially created as a private company and evolved into a multistakeholder body. Kummer finally pointed that the main contribution of multistakeholder 'decision shaping' processes like the one developed at the IGF were to provide a model to be used by actors interested in enhancing dialogue and co-operation in policy-making. It was, in his view, particularly important to promote interactions and collaboration between government and non-government actors in developing countries and emerging economies.
Moderating the session, Drake noted the importance of developing mechanisms promoting the implementation of multistakeholder process outcomes. He then asked the panellists for their views on the topic. Addressing the moderator's question, Kulesza noted that international law, despite being very linked to hard-law instruments such as treaties, is also influenced by a set of enforceable practices called 'customary international law'. This particular arrangement can provide some interesting alternatives to be explored by Internet governance actors. Strickling praised the opportunity to develop mechanisms to track the implementation of multistakeholder process outcomes and pointed that during the last few years, a set of best practices became almost globally enforceable standards. Kummer also noted the existence of non-enforceable mechanisms designed for one particular area and that gradually became largely accepted in the global community.
The moderator then opened the floor to participants to ask questions. Martin from ICANN asked how to ensure that multistakeholder dynamics continue being open to the participation of new people; and an unidentified participant questioned how to develop more efficient Internet governance regulatory mechanisms. Addressing the first question, Strickling stressed the importance of creating practices to support the inclusion of new stakeholders and praised initiatives like the Collaborative Governance Project. Commenting on the second question, Kulesza pointed out that Internet governance is everywhere and re-interred that some effective mechanisms translating soft-law practices to enforceable legal instruments like the new European General Data Protection Regulation (GDPR), were the result of efforts and discussions held in different fora, including the IGF.
By Joao Araujo Monteiro Neto
Related topics
Related event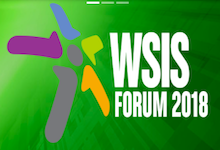 WSIS Forum 2018
19 Mar 2018 09:00h - 23 Mar 2018 18:00h
Geneva, Switzerland