WSIS 2018 – Moderated high-level policy session 5
13 Jun 2017 16:00h - 16:45h
Event report
[Read more session reports from the WSIS Forum 2018]
This session, moderated by Dr Michael Nelson from Cloudflare, dealt with the role of information and communications technologies (ICTs) in all aspects of development. The session took the form of interactive discussions where panellists answered live questions from the audience and suggested tweets.
Mr Yushi Torigoe, deputy director and chief of administration and operations coordination department at the Telecommunication Development Bureau (BDT) of the International Telecommunication Union (ITU), spoke about the ICT Development Fund initiative for the implementation of wide national and international projects for sustainable development, with signed agreements with an estimated 36 million for meaningful and impactful projects.
Mr Thomas Schneider, Swiss ambassador and director of international affairs, Federal Office of Communications (OFCOM), stated that ICTs play a crucial role in the sustainable development goals (SDGs) and should be used to improve all aspects of our lives. Schneider stressed that we should harness the full potential of ICTs and to be aware of their opportunities and challenges. The speaker added that education, constructive co-operation, and trust and accountability between stakeholders are key.
Mr Rossen Jeliazkov, chairman of the Communications Regulation Commission of Bulgaria, admitted that the world is still digitally divided and that governments have to work on ICT-enabling reforms in education. Jeliazkov added that WSIS could contribute to achieving the SDGs by providing technical assistance in planning and investing in education.
Mr Ernesto Rodríguez, IT director at the Ministry of Communications of Cuba, shared the Cuban delegation's commitment to a national plan on infrastructure and development for a knowledge and information society. Rodriguez mentioned that the Cuban government works on the basis of an inclusive strategy in order to address the challenges that the future holds. The speaker added that the financial blockade by the US government impedes their efforts in terms of ICT use, access, and economic possibilities.
Mr Vincenzo Aquaro, chief e-government branch, division for public administration and development management at the United Nations Department of Economic and Social Affairs (UNDESA), said that their role is to focus on how governments can better incorporate ICTs and digital strategies to reap the benefits of digital economies. Aquaro also explained that UNDESA is responsible for the publication of the E-government Survey.
Mr Yonathan Parienti, founder and CEO of Horyou, talked about how technology can work towards social good, or what he calls 'technology with a purpose'. Horyou created a social network for social good with 250 thousand persons from all over the world and connected them via a platform that features the UN SDGs. Parienti also shed light on the creation of a 'spotlight' within their network for people to support each other using digital currency.
Mr Anders Aeroe, director of the division of enterprises and institutions of the International Trade Centre, highlighted how new technologies have created huge opportunities for small and medium size enterprises. Aeroe emphasised how digital tools reduce distances between the producer and buyer, and how social media offers new routes to markets. The speaker called for the development of appropriate strategies to adapt to this change.
Dr Salma Abbasi, chairperson and CEO of the eWorldWide Group, talked about the issue of gaps in accurate data and in the percentage and type of people who are excluded. Abbassi urged for a paradigm shift in how we approach the development and inclusion of the poor, women, elderly and disabled communities. He added that policies must compliment the practical, local and social situations to ensure the inclusion and dignity for all.
Mr Pavan Duggal, founder and chairman of the International Commission on Cyber Security Law, shed light on the lack of cybersecurity regulations and international conventions to face security breaches. Duggal said that the commission is working on regulations that governments can use at their own discretion, depending on their own realities.
By Ines Hfaiedh
Related event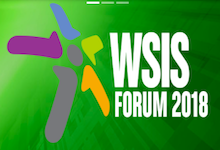 WSIS Forum 2018
19 Mar 2018 09:00h - 23 Mar 2018 18:00h
Geneva, Switzerland