Moderated high-level policy session 14
21 Mar 2018 11:00h - 12:00h
Event report
[Read more session reports from the WSIS Forum 2018]
This high-level policy session, moderated by Mr Alfredo M. Ronchi, general secretary, European Commission MEDICI Framework of Cooperation, featured discussions on knowledge societies, capacity building and e-learning/media.
Mr Yogida Sawmynaden, minister of technology, communication and innovation in Mauritius, presented the steps taken by Mauritius since 2003 in developing its information technology (IT) industry and the skills of its citizens. This sector has become the third pillar of the Mauritian economy, with approximately 23,000 employees. Mauritius intends to become an education hub at international level. With regard to capacity-building and e-learning, Mauritius focuses on online classes and coding in primary schools and collaborates with private actors such as IBM.
Mr Jean de Dieu Rurangirwa, minister of information technology and communications in Rwanda, indicated that in Rwanda, information and communication technologies (ICTs) constitute one of the main pillars for economic development. Illustrating the efforts of the Rwandan authorities to move from an agriculture-based economy to a knowledge-based society, Rwanda is now covered by broadband connectivity with fibre optic, and 95% of the population is covered by the 4G network. Rwanda is implementing the Smart Rwanda Master Plan, as well as sectorial strategies (e.g. education and health) to involve all stakeholders in these developments. E-learning plays a major role in building a knowledge-based society, and Rwanda has developed smart classroom initiatives in order to bring knowledge and content to all classrooms.
Ms Emine Dzhaparova, first deputy minister at the Ministry of Information Policy in Ukraine, emphasised the challenges raised by the political situation in Ukraine. One of the key priorities for the ministry of information policy in Ukraine is to deal with propaganda, freedom of speech, and freedom of information. Accodring to Dzhaparova, a number of websites spread anti-Ukrainian content in Ukraine, and this raises the question of how online content should be controlled and taken down.
Mr Ali Al Yafei, ICT minister advisor at the Ministry of Education in the United Arab Emirates, presented the approach taken by the ministry regarding capacity development and e-learning. Several frameworks have been developed, for instance on e-maturity, on ICT competencies for teachers and students, and on e-safety. Al Yafei indicated that capacity-building should not be induced from outside, but instead should come from the people within, highlighting the significant role of individuals in achieving transformational changes.
Next, Mr Sungnam Choi, programme director for the Centro de Estudios Avanzados en Banda Ancha para el Desarrollo (CEABAD), referred to the work of CEABAD regarding ICT capacity building in Latin America and Central America. Since 2015, CEABAD has been providing national officials and experts with workshops and seminars on ICT, network infrastructure, and other issues in the region. Courses are also available online, in Spanish, provided by experts on the telecommunication sector in Latin and Central America.
Mr Temitope Ola, founder and CEO of EDACY, highlighted the great potential of new technologies for African countries, especially in higher education. The emergence of more dual types of education (as championed by Switzerland and Germany) offers new perspectives to other countries on building new skills and achieving higher levels of employment. The two main challenges for educational training in Africa are related to infrastructure and skills, as emphasised by the projects undertaken by EDACY in Senegal and the Ivory Coast.
Mr Abdelrahman Mohamed, global president of AIESEC International, described the actions taken by AIESEC to build the capacities of the younger generations. First, capacity building content needs to be adapted to the new reality of technology, in particular in terms of the reduction of the attention span of Internet users. AIESEC develops programmes using peer-to-peer learning and practical learning, in order to mobilise the new generations and allow them to become a building pillar of the knowledge society.
Finally, Dr. Yohko Hatada, founder and director of the Evolution of Mind, Life and Society Research Institute, concluded by indicating that technological changes needed to be focused on the individual. This current period of time represents a critical moment for societies and may lead us to a new kind of civilisation. It is thus important that we switch from international competition to global co-innovation processes.

By Clement Perarnaud
Related topics
Related event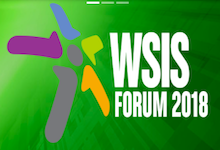 WSIS Forum 2018
19 Mar 2018 09:00h - 23 Mar 2018 18:00h
Geneva, Switzerland