Megaconstellations offering new technology for an inclusive access to rural areas of the LDCs
19 Mar 2018 09:00h - 10:45h
Event report
[Read more session reports from the WSIS Forum 2018]
This workshop was sponsored by the International Network of Women Engineers and Scientists (INWES) and AB5 Consulting. Dr Cissé Kane, president of African Civil Society for the Information Society (ACSIS-SCASI), welcomed the audience stressing that session would be focused on services and applications enabled by constellations of satellites, more specifically, OneWeb.
Ms Yvette Ramos, vice-president of external relations of the International Network of Women Engineers and Scientists (INWES), presented the INWES as a global network of organisations of women in science, technology, engineering, and mathematics reaching over 60 countries worldwide and an official partner of the United Nations Educational, Scientific and Cultural Organization (UNESCO). It gathers women to build a better future, providing ICT programmes for young girls, for instance.
Ms Betty Bonnardel, CEO of AB5 Consulting and president of Space and Satellite Professionals International, SSPI UK, explained that AB5 Consulting carried out a study about the usage of high technology, such as satellites, to improve people's lives. The study was contracted by the European Space Agency. The aim of AB5 Consulting was to develop sustainable projects to improve connectivity. The project targets the use of satellites as an extension of fiber network to bring connectivity. According to her, they developed OneWeb which is easily deployable and maintainable. Connectivity provided by satellites is more cost efficient than the infrastructure demanded by the usage of fibres. In addition, satellites, contrary to fibre, have global coverage. OneWeb focused on four practical problems and solutions provided by satellites.
1. Voting. In order to participate in the democratic process, citizens need birth certificates. She emphasized that 25% of the children do not have birth certificates in Africa. When they do not have such document, they cannot vote. Bonnardel argued that the technology – software and applications – to improve the situation already exists, but they need connectivity to be implemented.
2. Weather stations. The number of weather stations in all of Africa is the same as in Switzerland. Weather stations are essential to provide information to the farmers about weather conditions and to help the harvest. Connectivity will give access to essential information on weather condition remote farmers.
3. Natural disasters. What happens after a disaster, a flood for example? Bonnardel stated that satellites can prevent further consequences of natural disasters for the local population. Citizens, even the most remotely located, can be protected and aware of evacuation plans.
4. Transportation. Satellites can track containers and trucks. The idea already exists. AB5 is trying to make it affordable for least developed countries.
Dr Tony Azzarelli, vice-president of regulatory and government affairs at OneWeb, affirmed that other projects such as OneWeb are coming. The ITU reports that half of the world is either not connected or poorly connect to broadband. Most of the world population is rural, impacting connectivity. This does not only happen in the developing world, but also in the developed world: 18% of the population in Europe is badly connected or not connected at all. They live in a black hole. Satellites are the solution for that problem, mainly because of the costs. Fibre depends on heavy infrastructure. The OneWeb constellation performs very much like other Internet services, but the infrastructure is provided through a satellite. He noticed that OneWeb does not offer access to end-users, but to local operators. In terms of constellation OneWeb is not new and the technology has existed for 20 years. However, due to costs, only now it is possible to implemented it. In terms of architecture, the OneWeb will provide 900 hundred satellites by 2020, and also satellite terminals offering access to broadband. Constellation satellites will bridge the connectivity divide and revolutionize connectivity worldwide. OneWeb will be employing satellites in 2018 and providing connectivity from 2020.
Ms Bamba Massiata, secretary general of ACSIS Ivory Coast, explained that Internet coverage in the Ivory Coast is still low. In Africa 89.3% of the population is not yet covered. In the Ivory Coast, a study has shown that fibre and wireless coverage reach only 45% of the population. This percentage has been increased by mobile technology. According to Massiata, the Internet is very important for the life and development of a nation. Satellite constellation can help in three different aspects:
1. E-government. The Ivory Coast has taken steps, but there is still lot to be done. The purpose is to give the local population access to the government and public administration and to give citizens living in remote areas access to public services such as birth certificates.
2. E-agriculture. The country's economy is based on agriculture. Megaconstellation will provide timely information on weather conditions to farmers.
3. Disaster risk alerts. This is very important for developing countries, who are often the last to be informed about disasters, because they do not have access to technology and information. The project is very important – we need to train people to understand.
Azzarelli noted that it is very difficult to access the market in some developing countries. It is impossible to bring connectivity if there are barriers – such as high taxation and high licenses costs. Reducing taxation for the importation of equipment and low licence fees are essential to reduce the costs of connectivity for developing countries' populations.
Kane concluded by stating that the aim of the workshop was to bring practical solutions for connectivity in Africa.
By Ana Corrêa
Related event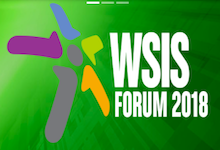 WSIS Forum 2018
19 Mar 2018 09:00h - 23 Mar 2018 18:00h
Geneva, Switzerland