Linking education with ICTs for capacity building and employability
19 Mar 2018 09:00h - 10:45h
Event report
[Read more session reports from the WSIS Forum 2018]
Dr N.K. Goyal, president of the CMAI Association of India, moderated the thematic workshop on the importance of the education and capacity building initiatives linked to ICT use for sustainable development.
Mr Malcom Johnson, deputy secretary-general, International Telecommunications Union (ITU), started with an announcement about the hackathon #HackAgainstHunger which is taking place at the WSIS Forum and ends on 19 March. Johnson emphasised the great number of students from around the world who have registered for the contest. He also mentioned that the ITU is one of the few UN organisations that have offered membership for universities since 2011, with currently 130 as members. Academic conferences organised by the ITU help the universities to establish contacts, and collaborate with the almost 600 private IT and telecom companies that are also members. The ITU has also established a technical journal available online where students can contribute articles.
In addition, Johnson stressed the efforts of the ITU to enhance remote participation in its meetings – letting people actively participate by intervening and presenting documents, not just passively listening. Ultimately the ITU is seeking to increase the number of translations and interpretations of its meetings. Johnson expressed his regret about the lack of budget for WSIS to provide captioning and machine translation for the bulk of sessions happening in parallel.
Mr Rajendra Shende, chairman of TERRE Policy Centre, introduced the Smart Campus Cloud Network, an initiative launched by Indian university and college campuses aimed at contributing to SDGs. Mr Shende highlighted the principle that 'to do best with least is smart' is key for the success of the initiative. The cloud network provides a platform for sharing experience and knowledge, as well as data on SDG-related work in the campuses. This includes data on water levels and energy efficiency, waste management, and pollution of different kinds. The idea is also to keep campuses in competition with each other and stimulate technology development for better SDG solutions. Shende also mentioned the great contribution of students who become entrepreneurs for sustainable development even before they graduate.
Mr Deepek Mahshwan, from Symtec, began his talk with a remark that artificial intelligence (AI) is not AI until it reaches the characteristics of natural intelligence. Each new technology, he said, such as the Internet of Things (IoT), big data, and so on, is being made for human good. He also noted that cybersecurity today is not just a question of technology – it has become an integral part of policy, as well as of business.
Mr Pavan Duggal, cybersecurity expert, India, brought attention to the trend of regulating cybersecurity which began in China, then Russia, Germany, and Singapore. He recounted his experiment regarding the awareness of people about cyberlaw trends, when he started his free online course in October 2017. In six months the course was completed by 4500 students from 134 countries. They included law makers, politicians, bureaucrats, business people, and academics. This experiment motivated Duggal to put more effort into capacity-building programmes. He believes that the future is in self-learning and e-courses, in addition to traditional forms of education.
To finish, he gave an example of the new blockchain technology widely discussed at the Davos Economic Forum. Despite the opportunities the technology provides, there is still a big gap in legal and security implications that deserves greater research and discussion.
By Ilona Stadnik
Related event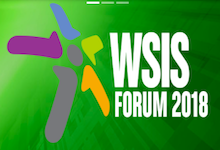 WSIS Forum 2018
19 Mar 2018 09:00h - 23 Mar 2018 18:00h
Geneva, Switzerland