From the last to first mile: Community networks
19 Mar 2018 14:30h - 16:15h
Event report
[Read more session reports from the WSIS Forum 2018]
The moderator Mr Steve Song, a researcher at the Association for Progressive Communications (APC) and a Mozilla Fellow, welcomed the audience and introduced the aim of the workshop. He said that it should explore what more we can do to enable the environment for community networks from different perspectives such as regulation, investment, and capacity building. He then asked the panellists to share their opening statements.
Mr Alex Wong, Head, Global Challenge Partnerships and Member of the Executive Committee, World Economic Forum (WEF), spoke from his perspective as part of the initiative Internet for All run by the WEF. Wong described an ecosystem approach that focuses not only on the supply side (connectivity, infrastructure, affordability) but also on the demand side (skills, awareness, relevant content) issues of meaningful access. He then talked about activities in South Africa that are focused on last mile connectivity. He mentioned the concepts of blended financed and micro financed funds.
Dr Carlos Rey-Moreno, Community access networks Project Coordinator, APC, provided the perspective of the co-founder of Zenzeleni Networks, a community-owned Internet service provider offering affordable communications in rural Eastern Cape, South Africa. Rey-Moreno mentioned the barriers of literacy and knowledge of bureaucratic and compliance issues. To overcome these problems they created a non-profit cooperative that can be exempted from telecommunications network licensing.
The next speaker Mr Ramon Roca, from guifi.net, talked about his experience of building guifi.net, a community network in Spain. An economically sustainable model for remote areas should have only one infrastructure that would serve as a commons owned by the community and shared by the service providers. In fact the connectivity can be very cheap as the construction of fibre networks is cheaper than water or electrical networks. According to Roca, the Internet creates economic activity and there could be a return on investments even in such remote areas.
Ms Alison Gillwald, Executive Director, Research ICT Africa (RIA), described the focus areas of RIA's research activities. These are alternative ICT policy and regulation strategies that are more appropriate for developing countries. Gillwald mentioned that RIA started collecting indicators from the demand side in order to understand people's constraints. She gave an example of the After Access Survey. The survey showed that one of the biggest issues is affordability (cost of smart devices and cost of services). This problem requires reviewing business, licensing, and universal service models. She suggested countries should look for a hybrid delivery model that would provide lower cost services. Community networks are often the last resort that requires an intervention by official authorities in terms of licensing and spectrum allocation.
Mr Paul Cunningham, President of Institute of Electrical and Electronics Engineers (IEEE) Society on Social Implications of Technology (SSIT) called for multistakeholder coordination within and between the public sector, the private sector, educational, research, societal funding, and the international donor community. Cunningham identified spectrum sharing as one of the biggest issues. From the technological and standards point of view, the amount of bandwidth used outside primary metropolitan locations is only between 7% and 9%. He also suggested there should be informed consent. People need to understand what the impact of new technologies would be.
Ms Jane Coffin, Director, Development Strategy, Internet Society (ISOC), mentioned the document Policy brief on Spectrum Approaches for Community Networks that looks at the possibilities of targeted spectrum use such as secondary use, shared use, and licence-free use. The paper also investigates options for making licensing faster and cheaper. Coffin then mentioned examples of experimental and purpose licensing.
After the first round of opening statements the moderator asked panellists if they wanted to react to any points. Gillwald made a point about the importance of gathering evidence and local context. Rey-Moreno supported this opinion and warned against the parachute model in which the infrastructure is built and left to the community without the knowledge that could have been developed within the community if it had been built by the community itself.
A remote participant discussed a model of a local area network that is not connected to the Internet but provides an intranet with content, networking options, and e-learning. The digital divide narrative is too focused on connecting people to the Internet.
The next round of discussion tried to answer a question on how essential community network regulation is for the future of equitable access. The panellists agreed that private companies have to have a profit. From this perspective the community network's shareholders are the community members and the profit is less important. There is a need to find a win-win solution. Here, the governments are cost drivers and can do things to reduce prices. The panellists reiterated the need for different spectrum allocation models and the sharing of bandwidth with others.
By Radek Bejdak
Related topics
Related event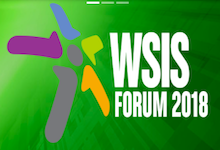 WSIS Forum 2018
19 Mar 2018 09:00h - 23 Mar 2018 18:00h
Geneva, Switzerland