Information and communication infrastructure towards the sustainable development goals
22 Mar 2018 16:30h - 18:15h
Event report
[Read more session reports from the WSIS Forum 2018]
This session was moderated by Mr Istvam Bozsoki, head of the Telecommunication Network and Spectrum Management Division, International Telecommunication Union (ITU) Telecommunication Development Bureau (ITU/BDT) and featured Dr Kemal Huseinovic, chief of the IEE department, ITU/BDT, who highlighted that new technologies rely on a strong resilient broadband infrastructure which plays an important role in the sustainable development goals (SDGs). It is a prerequisite for achieving the development goals, especially education, healthcare, and poverty eradication. The ITU is working on connecting the four billion and build the next generation of information and communications technology (ICT) networks to enhance economic and social growth. The interactive transmission maps are on ICT data mapping platforms as well as other key metrics of the ICT infrastructure. The ITU provides an affordable tool for official national spectrum management that more than 45 countries adopted. Huseinovic added that the ITU is working to address the following topics in relation to the SDGs on:
Information gathering
Spectrum management for affordable wireless infrastructure
The creation of an innovation team
International organisations and private sector partnerships
Prof. Irini Reljin, assistant minister, department for electronic communications at the Serbian Ministry for Trade, Tourism And Telecommunications shared ICT indicators which show that Serbia enjoys some of the highest penetration rates for mobile services in the Balkans and a competitive market with three competing operators. Reljin added that the fixed market was liberalised relatively late in 2010 and fixed broadband penetration remains low compared to the European average. The panellist added that 5G is very important today and that the spectrum requirement for 5G networks is seen in two ways: frequencies under 1GHz and frequencies above 6GHz. Moreover, the spectrum bandwidth estimated per operator could be around 500MHz below 20GHz and 1GHz and 2 GHz above 40GHz. Reljin admitted that the harmonisation of spectrum policies for 5G is a challenge, as there is a lack of global spectrum harmonisation on Long-Term Evolution (LTE) deployment which is common for the development of cloud computing. The speaker also emphasised the importance of data analysis and cybersecurity.
Mr Kondo Masanori, deputy secretary general at the Asia Pacific elecommunity (APT), talked about the challenges and opportunities of information and communications technologies for development (ICD4D) in Asia and the Pacific. Masanori stated that the work in the APT areas of revolves around:
Developing the digital infrastructure
Enabling conducive environments and harnessing the benefits of new technologies
Promoting security and resilience through ICT
Solidifying strategic co-operation with stakeholders
Promoting inclusiveness and enhancing expertise
Mr Robert Pepper, head global connectivity and technology policy at Facebook, shed light on the intersection between infrastructure and SDGs. Pepper added that they are working on aligning all incentives and benefits for everyone with the goal of connecting the people who are not connected yet. The speaker added that they are addressing the gaps in infrastructure and working on a robust broadband connection that will lead to economic and social benefits everywhere. A mobile signal is available to 95% of the world population, but they do not have access to broadband and hence the need for partnerships and new business models.
Mr Karyabwite Desire, IP coordinator, ITU/BDT spoke about the Spectrum Management Software (SMS4DC) which helped developing countries manage radio frequency. Desire added that the ITU is providing a National Table of Frequency Allocations (NTFA) offering technical assistance to more than 30 countries on NTFA.
Mr Daigele Vladimir, programme officer, ITU/BDT said that the ITU is working on identifying the gaps in infrastructure based on a Geographical Information System (GIS) to reach conclusions and solutions. Vladimir concluded that ITU is collaborating with different partners to achieve the SDGs.
By Ines Hfaiedh
Related topics
Related event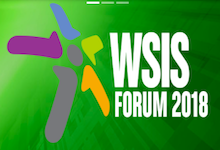 WSIS Forum 2018
19 Mar 2018 09:00h - 23 Mar 2018 18:00h
Geneva, Switzerland