IEEE and the Sustainable Development Goals (SDGs)
19 Mar 2018 16:30h - 18:15h
Event report
[Read more session reports from the WSIS Forum 2018]
This session was organised by the Humanitarian Activities Committee (HAC) of the Institute of Electrical and Electronics Engineers (IEEE) and moderated by Prof. Paul M. Cunningham, president of the IEEE Society on Social Implications of Technology. Cunningham clarified how IEEE supports sustainable development goals (SDGs) by providing financial, educational, and mentoring support to relevant projects and events. He also highlighted the importance of building strategic partnerships with other stakeholders and supporting 'feet-on-the ground; community-based activities. Cunningham added that the HAC, offers:
Raising awareness of sustainable development
Training, networking and mentoring
Engaging with sustainable development projects
Contributing to the sustainable development community
The speaker shed light on the range of projects that the IEEE supports, and how they must be aligned with SDGs and strengthen local capacity through technology adaptation and deployment. He explained how support includes developing sessions and workshops, providing speakers for other events, and publicity, and how partial grant funding can contribute up to USD$15 000 towards specific activities.
On the Special Interest Group of the Humanitarian Technology programme (SIGHT), Ms Miriam Cunningham, chair of the IEEE SSIT IST-Africa SIGHT, emphasised that it is a global network of IEEE and non-IEEE volunteers working in partnership with local communities to leverage technology for sustainable development. SIGHT projects focus on providing education, training and mentoring to support ethical collaboration, and address local societal challenges in fields including agriculture, education, health, connectivity, and off-grid power. The SIGHT mission is to assess the impact of technologies on demographics, and not to work on infrastructure. Through the research project, the programme mobilised a cross-border intervention to provide training on technology use, and beneficiaries are also using these life skills outside of their work area.
Prof. Cunningham intervened to introduce IEEE humanitarian and philanthropic opportunities aiming at bringing scale, visibility, focus, and impact.
Ms Cunnigham then introduced the IEEE Smart Village which is fostering enterpreneurship, stimulating local energy entrepreneurs, and providing ongoing technical training and advisory support. Cunningham also showed how students benefit from improving their technical and communication skills, as well as gaining real-life experience with measurable results.
Cunningham also presented the IEEE Internet Initiative which is a collaborative platform for advancing solutions and informing global technology policymaking in the areas of Internet governance, cybersecurity, privacy, and inclusion. The initiative supports experts in technology and policy (ETAP) to participate in key Internet policy meetings, and continuously monitor the global Internet policy environment.
Lastly, Cunningham shed light on the Empower a Billion Lives Global Competition, which targets the wide IEEE community to develop sustainable solutions for electricity access, and to leverage twenty-first century technologies and scale to impact over one billion people in extreme poverty.
The session was concluded with a word from Ms Karen Bartleson, former president of the IEEE, who stressed that IEEE's goal is to advance technologies for the benefit of people.
By Ines Hfaiedh
Related topics
Related event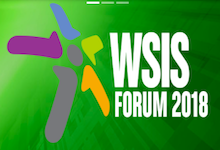 WSIS Forum 2018
19 Mar 2018 09:00h - 23 Mar 2018 18:00h
Geneva, Switzerland