ICTs for safety and security
19 Mar 2018 11:00h - 13:00h
Event report
[Read more session reports from the WSIS Forum 2018]
Moderator of the session Mr Alfredo M. Ronchi, Multimedia for Education and Employment through Integrated Cultural Initiatives (EC MEDICI), Italy, started by highlighting the importance of safety and security for human development. He mentioned that safety and security are an integral part of human rights, and said, 'It is our duty to provide all the effort to guarantee such rights.'
Detailing the concept of time and geo-time, Mr Hervé Rannou, Cityzen Data, France, presented an approach where these concepts can be utilised for achieving safety and security for individuals by, 'detecting weak signals in security and cybersecurity'. Referring to the 'semantic web', he cited the notion as 'an ideal presentation of data that provides stakeholders with the intelligence it is gathered for'. He also proposed the business use cases for analytics that can utilise the concept: network analytics, telecom analytics, banking analytics, travel analytics, visa and border analytics, and smart phone analytics.
Mr Pavan Duggal of Pavan Duggal Associates, India, highlighted the current risk and gaps within the governance structure of cyberlaw and cyber policies followed by various nation states. He highlighted the details of current legal, policy, and regulatory issues concerning ICTs for safety and security. Emphasising the need for robust and secure governance practices and laws, he said, 'An umbrella cannot prevent the rain, but can save you from inconvenience when it does happen.'
Ms Hayley Watson, practise manager at theTrilateral Research Institute, UK, focused on products utilising ICT-based interactions enabling citizen resilience with a nation-state.
Dr Sarah Jane Fox, from Middlesex University, UK, provided statistics on the current utilisation of 'cool gadgets and tools' that are being used by governments across the world, particularly in developed nations, to ensure the safety and security of their citizens. To give an example of the imbalance in technology utilisation by nations, she mentioned that 'the UK has 1% of the world's population, with 20% of the world's CCTV installations.'
Ms Nadia Saad Noori, Teknova, Norway, presented the case for 'next generation ICT and machine intelligence enabling safe and secure societies.'
Mr Ranjit Makkuni, from the Sacred World Foundation, India, termed the ongoing 'IT revolution' as 'betrayed', citing the increasing 'reductionism of the self-disembodiment' by social media-driven transformation.
Ms Alessia Golfetti, from DeepBlue, Italy, presented the challenges that are posed due to human factors in the process of safety and security. She highlighted the risks experienced while ignoring the human factor and only focusing on technology for achieving cybersecurity. She stressed the role of policies and procedures in achieving a holistic security structure.
Prof. Lynn Thiesmeyer, from the Keio University, Japan, presented cases of community security issues in Southeast Asia. In detailing these, she highlighted the monitoring causes and consequences of these security issues. She asked the panellists and audience members to devise ICT ways to convert the local information collected from global information systems and local data sources, into knowledge. She said that some of the challenges needing resolution through large scale infrastructure projects include: livelihood and habitat displacement, illegal and large-scale migration, low and destabilised economic performance and health and other safety issues.
By Mohit Saraswat
Related topics
Related event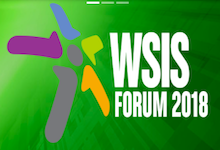 WSIS Forum 2018
19 Mar 2018 09:00h - 23 Mar 2018 18:00h
Geneva, Switzerland