ICT solutions for SDGs: Women entrepreneurs and innovators
22 Mar 2018 16:30h - 18:15h
Event report
[Read more session reports from the WSIS Forum 2018]
The moderator, Ms Cíntia Pino, head of marketing and external relations, Horyou, spoke briefly about her organisation, which is a social network for social good where everyone can share content and ensure that their personal data is kept private as opposed to traditional media. On how information and communications technology (ICT) can promote gender equality and possible solutions, she mentioned that ICTs can make a good contribution to diversity. Pino shared some statistics from Uber, which showed that women make 10% less profit than men. She attributed this to many factors like not using certain routes because of safety or taking time off to care for families.
Ms Gitanjali Sah, policy analysis, WSIS and the International Telecommunication Union (ITU), stated that gender mainstreaming and equality is an important WSIS process, which is now being integrated across all 11 action lines. She highlighted two ITU initiatives: EQUALS, the global partnership for gender equality in the digital age, and SheTrades, an online platform that connects women entrepreneurs to buyers and sellers. She challenged panellists and participants to come up with a challenge on gender and ICTs for the 2019 WSIS forum.
Dr Patricia Sigam, CEO, digitalMedLab, stated that she was inspired to join the technical field because many technical people she met always offered solutions, hence she was convinced that technology could solve problems that confront people every day. Growing up in an African family of seven children with only one boy, she mentioned that gender inequality only became a reality at university when she discovered that there were fewer women in her class. The technical field was even worse. She encouraged women to use the advantage of being women to create change.
Ms Taissa Thierry Chaves, founder of Women in Digital, highlighted the need for diversity as studies show that diverse teams perform better. She noted, however, that about 6% of conference speakers are women, a challenge that needs to be addressed. Thierry Chaves believes that role models (both female and male) are important, especially for students in schools because young people can have someone to look up to and be guided by in their career choices, something lacking in her school days.
Ms Sonja Betschart, cofounder of WeRobotics, whose organisation addresses the issue of robotics technology by trading local capacity and solutions for social good, acknowledged that technology is a great tool, citing examples of solutions for leadership monitoring and managing diversity. Betschart agreed with Thierry Chaves that diversity is an advantage as it brings people with different profiles together, who can then complement each other and deliver even better. She noted that emotion and intuition are missing in the technology sector.
Ms Marie Debombourg, COO of WeCan.Fund, encouraged women to stand out and take advantage of situations that take them to higher levels. 'If you like your work, your passion gives you the ability to make technologies efficient,' she said, while adding that passion is a useful tool.
Speaking remotely, Ms Trisha Shetty, founder of SheSays, was inspired to found her organisation because there was no information available online about sexual harassment or how to get help. She encouraged women to speak up unapologetically and demand accountability and equal representation, while celebrating the voices of women who are speaking up. She shared statistics from India, which show 22.8% women representation in national parliament.
Also speaking remotely, Ms Anita Klasanova, founder of Food by Anita and Roo Brands, emphasised the need for women to speak up and ask when they have to. She noted that many times women have to prove themselves, something that men do not have to do. She encouraged women and men to work together as men may sometimes not have had experiences of working with women. She also called for change in solutions noting, 'When you do the same thing, you get the same result.'
Responding to a question from a participant about failures, Betschart admitted that she had failed many times, but the failures had helped her choose the right people. Sigam agreed and added that learning through failure is not a women's issue but an entrepreneurship and human issue.
By Sarah Kiden
Related topics
Related event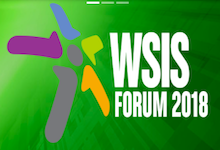 WSIS Forum 2018
19 Mar 2018 09:00h - 23 Mar 2018 18:00h
Geneva, Switzerland