ICT solutions for SDGs: Focus on robots, drones, virtual and augmented reality
22 Mar 2018 14:30h - 16:15h
Event report
[Read more session reports from the WSIS Forum 2018]
Moderated by Mr Jean Phillipe Mohammed Sangaré, president and CEO of the Swiss Society of Virtual and Augmented Reality (SSVAR), the session focused on the concept of innovation in technology in terms of robotics, drones, and virtual/augmented reality and how these align with the sustainable development goals (SDGs).
Ms Fanny (BAS) Kane, GIS officer, CartONG, started off the discussion by showing an example of a small drone. She informed participants that CartONG specialises in providing geographical information systems (GIS) and mapping to humanitarian organisations. It has worked with partners like Medecins Sans Frontiers, the Danish Demining Group, the United Nations High Commissioner for Refugees (UNHCR), the United Nations Children's Fund (UNICEF), OpenStreetMap, and others. Kane shared three project examples: Trimodex, Tadjikistan, and a UNHCR project, which focused on mapping, search and rescue, risk reduction in mudslide prone areas, piloting, and refugee resettlement. In the three examples, data were collected using unnamed aerial vehicles (UAVs) and 3D models were built to guide decision-making. She also mentioned that from comparison, UAVs and drones offered 7% more accurate images than satellite.
Mr Joel Kaiser, director of AidRobotics, WeRobotics, focused on the use of drones and robotics in delivering humanitarian aid in the case of disasters to help affected communities. He emphasised that all the work is not possible without a global network of people on the ground. He mentioned that they had worked with the Red Cross, non-governmental organisations (NGOs), and some universities to develop a code of conduct for drone pilots, data analysts, humanitarian workers, and other parties. He gave an example of the 2013 earthquake in the Philippines, where news stories from media houses were negative. Kaiser noted that data from drones is very important and making sense out of it in a disaster can have huge impacts. He also mentioned that it is important for governments to make the right policies while other parties work together to ensure that aid is delivered promptly.
Dr Sandra Bialystok, digital media coordinator at the Geneva International Centre for Humanitarian Demining (GICHD), stated that GICHD had supported 43 countries and visited 25, in a bid to clear landmines. She noted that there are 12 direct links to the SDGs and many other indirect links, highlighting that GICHD started with Goal 17, partnerships, hence providing support to governments, deminers, and humanitarian organisations with best practices, norms, and standards, and management information systems (MIS). She acknowledged that SDGs 6, 9, and 11 are also impacted by their work, ensuring that people out of conflict have access to infrastructure like water, food, and electricity. Bialystok concluded that virtual reality (VR) could bring people with different perspectives together, create new partnerships, and show people how to tell their story.
While she appreciated drones, robotics, and VR, Dr Marlyn Tadros, executive director of Virtual Activism, reminded panellists and participants to focus on the target audience when developing solutions and to consider how they will impact users in an effective way. She noted that some of the technologies mentioned like oculus and high-end computers are pricey for most users. She also noted that sometimes images and pictures speak better than virtual reality, giving an example of Alan Kurdi, a 3-year-old Syrian boy who drowned in an attempt by refugees to cross the Mediterranean Sea. Tadros emphasised the need to handle e-waste because soon technologies will become obsolete. She concluded that there is a need to rethink technologies and designs so that they can evolve without being thrown away.
(The presentation by Mr Felix Gaedtke, Cofounder, Now Here Media, suffered technical problems and is not reported on.)
By Sarah Kiden
Related topics
Related event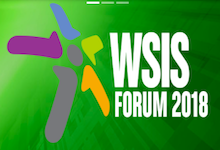 WSIS Forum 2018
19 Mar 2018 09:00h - 23 Mar 2018 18:00h
Geneva, Switzerland
Related technologies