ICANN, the government advisory committee (GAC) and capacity building
23 Mar 2018 09:00h - 10:45h
Event report
[Read more session reports from the WSIS Forum 2018]
The session was organised by the Internet Corporation for Assigned Names and Numbers (ICANN), in conjunction with its Government Advisory Committee (GAC), to discuss the work being taken forward to enhance the knowledge and understanding of government officials, and other players, on the working of the domain names system (DNS) and of ICANN, especially in under-served regions. Other organisations were also invited to speak about their capacity development efforts.
The session moderator, Mr Peter Major, vice chair, Radio communications advisory group, International Telecommunication Union (ITU), introduced the panellists and then invited Ms Susan Teltscher, ITU Telecommunication Development Sector (ITU-D), to commence the discussion by giving an overview of the ITU's capacity development activities in regard to Internet governance.
Teltscher pointed out that the core objectives of the ITU-D were training, material development, and certified training delivery. She added that the main delivery entities for training were ITU centres of excellence (COE), and partner training institutions, with the main delivery channels being ITU academy platforms, face-to-face training, and capacity building workshops. Teltscher highlighted that the ITU academy comprised over 10 000 users from 130 countries, and equipped participants with relevant skills in the digital world. She said that the next Internet governance capacity building programme for Africa will be held in August 2018, in Abuja, Nigeria.
Mr Laurent Ferrali, director, UN mission engagement, ICANN, discussed the role of GAC, stating that it was an ICANN advisory committee mandated to advise the ICANN board on issues relating to public policy development. Ferrali noted that GAC is comprised national governments and distinct economies, and, to date, it is made up of 176 members, and 36 observers, all of which were multi-national governmental and treaty organisations in nature. He added that GAC holds three meetings a year, where issues are discussed with the ICANN board and other ICANN supporting organisations. In regard to GAC capacity building workshops, Ferrali mentioned that previous workshops had been held in Nairobi, Fiji, Johannesburg, Abu Dhabi, Kathmandu, and San Juan. He revealed that the next capacity building workshops will be held in Dakar, and Panama respectively.
Ms Scarlett Fondeur Gil, ICT policy section, United Nations Conference on Trade and Development (UNCTAD), stated that UNCTAD's capacity building focused mainly on three main Internet governance areas, namely legal, economic, and development. Fondeur added that UNCTAD has recently reached a partnership deal with DiploFoundation, and the Geneva Internet Platform (GIP), to conduct capacity building in digital economy and trade. Furthermore, she said UNCTAD was interested in trade aspects of the digital economy, and had recently developed surveys combined with workshops and capacity building, to improve the measurement of digitally enabled services.
In her concluding remarks, Fondeur revealed that UNCTAD has conducted a pilot survey in collaboration with statistical offices and ministries of trade in Costa Rica, Thailand, and India. She said that the preliminary results of these workshops and surveys will be presented during the e-commerce week in April 2018.
Mr Cherif Diallo, GAC vice-chair, pointed out that in its capacity building efforts, the GAC has dedicated two days during the Africa Internet summit (AIS), in Dakar, Senegal, and that the capacity building workshop will be held exclusively in French for the francophone states.
During the question and answer session, one participant sought to know whether ICANN-GAC capacity building workshops were held outside the three meetings a year as mentioned by Ferrali. In response, Feralli said that they were indeed outside of the three GAC meetings.
By Bonface Witaba
Related topics
Related event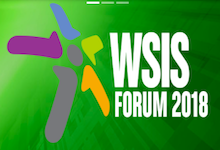 WSIS Forum 2018
19 Mar 2018 09:00h - 23 Mar 2018 18:00h
Geneva, Switzerland