How can we prepare kids for jobs that don't exist yet?
22 Mar 2018 13:15h - 14:00h
Event report
[Read more session reports from the WSIS Forum 2018]
The moderator, Mr Vitalii Varbanets, chief innovations officer at IT STEP Academy, introduced the session stressing that no state ministers are satisfied with their educational systems and that all of them want these systems to change. He said that digital skills are important for these changes to happen, but that the ability to create, combine, and analyse in order to produce something new is going to be essential to allow humans to cope with automation in such a way that they do not have to compete with it. Varbanets concluded by saying that he cannot imagine education where we just learn knowledge and facts, and do not learn how to create things, advancing a model that allows children to become creators, and not only consumers.
Ms Olga Strietska-Ilina, senior skills and employability specialist at the International Labour Organization (ILO), pointed out that jobs will undergo change in their associated content, tasks, and skills. She noted that digital skills are core, since people will increasingly need to change occupations during their lives, a scenario in which digital literacy will become a foundation skill because it is an asset that they can transfer from one job to another. She added that we also need to develop capacities that allow people to adopt, operate, maintain, and incorporate digital skills in practice. Strietska-Ilina also mentioned that the 4 Cs (creativity, communication, critical thinking, and collaboration) must be encouraged, but that leadership, teamwork, and project management skills, which are not a priority in current curricula are also important. She concluded by reminding the audience that 600 million jobs will be needed for young people by 2030, and that society needs to prepare them with skills that make them employable. She highlighted that the digital environment provides good opportunities to teach these skills, such as online learning and sharing of materials, but showed concern both as to the extent to which teachers are prepared to embrace these opportunities and as to the recognition by the market and employers of these informally acquired skills.
Mr Stephan Wirtz, adjunct professor at Corvinus University of Budapest at EM Lyon, Shanghai Campus, Geneva Business School, said that students almost always have a problem dealing with ambiguity. He insisted that current businesses do not have problems with complexity, but that they do have problems with uncertainty, and that this might be a reflection of how kids are guided to deal with uncertainty in the early stages of education. Wirtz added that schools and teachers also have to be involved in the necessary changing of mindsets, and called for educators to remind children that there are qualities and abilities that even the best information technologies cannot replicates, such as grace, forgiveness, and doing things against all odds. This led him to add a fifth C to the previous intervention, which is conflict management, which is not addressed at schools at all. He pointed out that we also need to look at skills that are human and not only digital.
Ms Olga Sokolik, founder of Parentville.ch, noted that almost all of the 10 000 parents who are members of Parentvill.ch agree that creativity, collaboration, and critical thinking are important skills for their children to develop, but that not all of them mentioned digital skills. She said that this might be due to a contradiction in which pediatricians recommend parents to limit digital exposure, whereas educators tell them to embrace technology. Sokolik noted that kids use technologies in many different ways, and that it is up to parents to find a way to keep the balance between how their kids use technology and also engage in traditional child activities. She criticised current educational systems for not being ready, with few exceptions, to develop curricula that meet the needs for the future, and of undermining the creativity which is innate in children at an early age, but which decreases as they progress into regular school systems.
Mr Tristan Jaquier, R&D and pedagogy manager at Futurekids, said that the most important thing in developing skills that are going to prepare kids for the future is the pedagogical approach. He said that even the best technology available will not improve education without changing the way children are exposed to the learning process. Jaquier stressed that technology is not the only way to implement necessary pedagogical strategies.
By Claudio Lucena
Related topics
Related event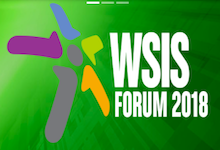 WSIS Forum 2018
19 Mar 2018 09:00h - 23 Mar 2018 18:00h
Geneva, Switzerland
Related technologies