Future of work/decent jobs for youth
22 Mar 2018 14:30h - 16:15h
Event report
[Read more session reports from the WSIS Forum 2018]
The session, moderated by Ms Jiwon Park, science policy interface focal point at the United Nations Major Group for Children and Youth (UN MGCY), addressed the impact that technological developments has on labour markets around the world. Park revealed that a survey on youth in information and communications technology (ICT) and the Future of Work (FoW) highlighted that a lack of networks, support, and integration initiatives affect youth employment, while globalisation and trade are the key issues affecting FoW.
Dr Peter Major, vice chairman at the UN Commission on Science and Technology for Development (CSTD), underscored the CSTD's top priorities as being building competencies in digital ecosystems with emphasis on women and children, and enhancing digital skills training. He stated that according to the World Bank, two-thirds of all jobs in developing countries will be susceptible to automation in the coming decades. Major asserted that it is important that rapid technological changes do not exacerbate digital divides or create new ones. Women are likely to be affected around the world, and to date the share of women in Science, Technology, Engineering and Maths (STEM) is very low. Major pinpointed the geographical implications of new technologies, as regions that effectively harnessed emerging technologies would provide a new dimension to the digital divide.
Ms Suzanne Shaw, coordinator of the Girls in ICT platform at the International Telecommunication Union (ITU), spoke about the ITU's partnership with the International Labour Organization (ILO) on the Global Initiative on Decent Jobs for Youth. She expressed concerns and solutions that arose during her work. To address the global youth employment crisis, Shaw posited that countries need to develop comprehensive digital skills development strategies. Despite awareness of this measure, Shaw stated that to take action countries were looking for a roadmap, existing training platforms, or options addressing affordability and mainstreaming. Shaw announced that an ITU toolkit on digital skills would be published soon.
Ms Maria Prieto, technical specialist of the FoW at the ILO, outlined the challenge of labour markets to adapt to technological, demographic, and environmental changes. She stated that the ILO is rearranging how it works and its relationship with its constituents. Prieto underscored that the ILO was also focused on social justice, which would imply changes to its declarations that were conceived and approved over 50 years now. Prieto commented on the global consultation process that spurred the ILO's new roadmap on the FoW and summarised the issues being addressed by the Global Commission on the Future of Work. She outlined that a roadmap for social justice was a key issue to be addressed in the coming year.
Mr Afzal Sarwar, policy specialist for educational innovation and access to information (a2i) in the Office of the Prime Minister in Bangladesh, emphasised that by 2030 65% of jobs will be new. He identified skills mismatch as a significant factor in youth unemployment, and indicated that Bangladesh's response to this challenge involved skills development, the creation of jobs for youth, and the creation of an enabling environment for young entrepreneurs. Sarwar pointed out that in addition to training youths, interventions at institutional level were also required to develop opportunities where new skills could be practised. He gave an exposé of a local e-learning platform called MuktoPaath, which was specially built with marginalised groups in mind.
Questions from the audience touched on maintaining wellbeing when looking at job market changes, balancing the impact of technology on future job markets and the global distribution of resources, and the state of preparations of the current generation to ensure decent work for future generations. Prieto revealed that experts were beginning to look beyond GDP to include standard of living and wellbeing dimensions in measuring work. Major and Shaw stressed the importance of including youth in decision making and encouraging skills exchanges between youths and older workers.
Three breakout groups were formed to further discuss:
Digital/ICT skills training and capacity building
Emerging ICTs shaping future(s) of work and job
Ensuring an inclusive and equitable FoW
Group 1 reported that there needs to be a greater inclination to lifelong learning and critical thinking. The group listed the lack of content in local languages and cultural norms as barriers to integrating some marginalised groups.
Group 2 highlighted that transparency issues with big data negatively affected work. Stakeholders need to unite to effect policy change. Future workers must possess multidimensional skills to stand out.
Group 3 reiterated the importance of ethical dimensions amid ongoing technological changes. One must safeguard against biases in developing algorithms by ensuring diversity in the development of such algorithms. The group cited the example of recruitment processes, and stated that in some aspects decision making should remain with human beings.
By Kevon Swift
Related topics
Related event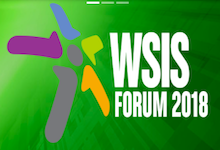 WSIS Forum 2018
19 Mar 2018 09:00h - 23 Mar 2018 18:00h
Geneva, Switzerland
Related technologies