Free to air as the enabler of original local content
22 Mar 2018 13:15h - 14:00h
Event report
[Read more session reports from the WSIS Forum 2018]
The moderator, Mr Giacomo Mazzone, European Broadcasting Union (EBU), introduced the panelists and then invited Ms Elena Puigrefagut, European Broadcasting Union (EBU) to kickstart the discussions.
Puigrefagut started by stating that the Free To Air (FTA) model for distribution of local content had proved a success for public, private, and commercial broadcasting entities. She added that the model had facilitated digital and social inclusion, as well as helped bridge the digital divide across Europe. Puigrefagut revealed that a study had shown that the FTA model easily coexisted with pay TV platforms.
Furthermore, FTA has attracted an 80% viewership across Europe as compared to pay TV. She summed up her presentation by noting that the UK was a leading powerhouse in regard to domestic content, which was capped at 80%, with France capping at 80% in terms of investments in French local content production. Outside the EU, Brazil has successfully replicated the FTA model, and was capped at 82% in domestic content production.
Ms Cath Westcott, BBC, briefly explained how the governance of the BBC had greatly improved the FTA model. Wescott pointed out that the BBC was constitutionally established by Royal Charter, with a mission to provide impartial news, support learning for people of all ages, support high quality output services, and to reflect, represent, and serve the diversity of the UK, as well as reflect the values of the UK to the world. She added that this was all in line with the SDGs 2030 Agenda.
Wescott proceeded to give examples of local content outreach initiatives the BBC was carrying out with schools in the UK and Northern Ireland. These, she said, targeted 11-18 year-old school children, and aimed at aiding them to produce local news and reports within their schools and communities.
Mr Walid Sami, European Broadcasting Union (EBU), addressed the topic of terrestrial broadcast networks (TBN), which, he reiterated, were vital for FTA. Sami explained that TBNs are one of the main means of distribution of FTA content, and for them to work, they need a spectrum, a range of frequencies that transmitters can use to transmit.
He added that TBNs were easy to regulate as they fell under national control, thus could be bound under national regulations.
Ms Carole Croella, World Intellectual Property Organization (WIPO), echoed the previous speakers' comments on the success of the FTA model. Croella then gave the highlights of FTA trends that were driving positive change outside of Europe. In Africa, she said, South Africa and Nigeria were perceived as the prime leaders in local content production and consumption.
Croella commented that there were huge commercial opportunities in the local content sector, but without investment in interesting and quality content, it would be difficult to capitalise on these opportunities. She wound up her discussion by emphasising that copyright was key to ensuring quality content that would be protected against piracy.
Ms Xianhong Hu, United Nations Educational, Scientific and Cultural Organization (UNESCO), wrapped up the discussions by explaining UNESCO's role in promoting local languages. With over than 7,000 languages globally, Hu said that it was vital to create relevant local and quality content capable of improving livelihoods of communities, in relation to the SDGs Agenda 2030.
During the question and answer section, one participant sought to know whether the BBC licenses Netflix to air BBC documentaries. In her response, Westcott explained that such commercial content was subject to license outside the UK via BBC Worldwide.
Another participant from Swaziland inquired from the BBC why their model was successful, and how WIPO was supporting its member states.
Answering his question, Croella pointed out that WIPO was mostly concerned about developing IP laws, capacity building, technical assistance, and last but not least, arbitration and mediation.
Westcott pointed to the BBC funding from its Royal Charter, its ability to reinvent itself, and to adopt to technology which played a pivotal role in its success.
By Bonface Witaba
Related event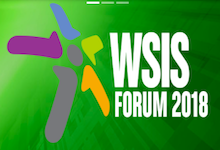 WSIS Forum 2018
19 Mar 2018 09:00h - 23 Mar 2018 18:00h
Geneva, Switzerland