E-science: global change research data publishing and sharing for all
19 Mar 2018 13:15h - 14:00h
Event report
[Read more session reports from the WSIS Forum 2018]
The session organiser and participants, among them Ms Chuang Liu of the Chinese Academy of Sciences & CODATA, and Mr Xiaofeng Tao, Director of the Chinese Association of Science and member of the Internet Governance Forum (IGF) Multistakeholder Advisory Group, stressed the importance of publishing research data, sharing data, and making data widely available. In addition to benefitting the advancement of science, this will also greatly support the work towards achieving the sustainable development goals.
Presenters highlighted that there are now tremendous amounts of data created and there is a need to find ways to benefit from this. Key questions discussed in this regard include the following: How can data be made publicly available while also protecting intellectual property rights? How can accessibility and usability of data be ensured? How can local and global data be better connected? How can data quality control be ensured? How can compatibility of data formats be guaranteed, especially with a view towards achieving for long-term preservation?
The speakers stressed that there are substantial inequalities in capacities between countries that need to be addressed. Data sharing and data publishing for developing countries have become critical but still lack support. It will be important to build the relevant infrastructure. The speakers identified in particular a lack of means to publish and a lack of means to analyse existing data. In this context, they called for greater South-South cooperation. Speakers also referred to things already accomplished, such as the Nairobi Data Sharing Principles, which include a data-sharing policy for developing countries.
Big data, which the speakers identified as an important new field of focus, poses special opportunities as well as challenges to building the needed infrastructure, in particular with regard to data storage and analysis.
Lastly, participants called for strengthening cooperation between the IGF and WSIS, working together on issues of open access.
By Katharina E. Höne
Related topics
Related event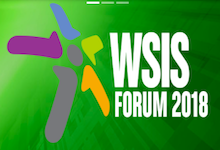 WSIS Forum 2018
19 Mar 2018 09:00h - 23 Mar 2018 18:00h
Geneva, Switzerland