Digital equity and inclusion for ICT in disaster risk reduction
19 Mar 2018 11:00h - 13:00h
Event report
[Read more session reports from the WSIS Forum 2018]
This session discussed the utility of information and communication technologies (ICTs) in disaster risk reduction (DRR), focusing on making it inclusive of all groups in society. Ms Yuko Murayama, vice president of the International Federation for Information Processing (IFIP) and chair of the IFIP domain Committee on IT in disaster risk reduction, opened the session with a video, highlighting the need for including the perspectives of disabled persons in DRR by recognising their capacities and allowing for their effective participation in decision-making.
Next, Murayama shared her experience in DRR efforts related to the 2011 tsunami in Japan, emphasising the need for a standard format to exchange information, open source software, a user-friendly interface, and applications for cloud computing. She stressed that efforts needed to be built around speed (even if solutions are imperfect), a good 'rhythm' of communication, and trust among those who communicate. She urged the audience to bear in mind the heterogeneity of the affected population as well as the diversity of actors involved in a response, which can be difficult to coordinate.
Speaking about gender inequality risks in DRR, Mr Toshihisa Nakamura, programme analyst of the Humanitarian Action and Crisis Response Office of UN Women, explained that natural disasters disproportionally affect women, who are more likely to lose their lives or be impacted by hazards. In addition, they are often excluded from decision-making on DRR, even though they might be in a better position to understand the needs of disaster response. The gender digital divide limits women's access to information, and alerts or accurate information following a disaster might not reach them. At the same time, ICT can help to reduce the inequality of risks to disasters by making technology available for women. While this is recognised by many global frameworks (e.g. the sustainable development goals and the Sendai Framework for Disaster Risk Reduction), there is still a lack of implementation. Nakamura listed a number of UN Women projects that attempt to address this implementation gap, including blockchain solutions that could contribute by providing women with civil and economic identities and cash-transfers after a disaster strikes.
Mr Tim Francis, associate programme specialist at the Freedom of Expression and Media Development Division of UNESCO, focused on the DRR needs of individuals, which include the distribution of information, the possibility of two-way communication, and participation in decision-making. Francis mentioned three priority areas:
Improving digital equity by providing access to underserved populations

Supporting traditional media, especially in areas without other ways to share information, and ensuring that such outlets are resilient

Strengthening media pluralism to ensure that people have multiple sources and options for information
Mr Alton Grizzle, programme specialist at the Freedom of Expression and Media Development Division of UNESCO, explained the role of media and information literacy (MIL) in DRR, as there is often a lack of understanding of the information needs of affected populations. He stressed that populations are not homogenous, and consist of many different groups, which need different types of information. To heighten the potential of ICT, there is a need to focus not just on individuals, but on groups and sub-groups in communities, such as migrants, refugees, marginalised groups, the elderly, or youth. Stressing the need for national and local-level policies, Grizzle emphasised the importance of providing people, groups, and institutions with MIL competencies. UNESCO is working on research that will provide tools to accelerate this effort.
During the discussion, participants raised the importance of accountability in DRR, and the need for gathering data. Some pointed out the utility of civil society data and crowdsourcing tools, such as OpenStreetMap, although there is still the challenge of properly integrating such sources into existing systems. In closing the session, the speakers reiterated the importance of involving communities in every step of the process.
By Barbara Rosen Jacobson
Related topics
Related event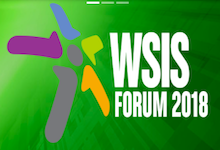 WSIS Forum 2018
19 Mar 2018 09:00h - 23 Mar 2018 18:00h
Geneva, Switzerland