A dialogue on different cooperation models for approaches to internet public policy development
19 Mar 2018 16:30h - 18:15h
Event report
[Read more session reports from the WSIS Forum 2018]
Ms Marilyn Cade, CEO at ICT Strategies, mCADE LLC, started by explaining that the workshop was proposed by ICANN's Cross-Community Working Group on Internet Governance (CCWG-IG) to discuss cooperation models in Internet public policy development.
Mr Matthew Shears, ICANN Board member, talked about ICANN's policy-making community practices. Shears pointed out the uniqueness of ICANN's policy space, stressing that this is the result of its policies, and the fact that ICANN embodies multistakeholderism practices. Shears highlighted ICANN's awareness of transparency and accountability, particularly after the recent processes such as the IANA transition. Articulating his personal views, Shears expressed concerns about Internet governance fragmentation caused by different policy sectors engaging in policy-making and the expansion of multistakeholderism to areas where it was thought to not be applicable.
Cade commented about the flourishment of the Internet governance ecosystem and the mushrooming of different initiatives that looked at only one part of the problem.
Mr Torbjorn Fredriksson, UNCTAD ICT Policy Section, talked about UNCTAD policy-making strategies and noted that in order to address current national and international challenges, governments needed to use mechanisms to get closer to the private sector and civil society. He noted that although the growing efforts to collaborate at the national and international level and the existence of important gatherings such as WSIS, the Internet Governance Forum, and events like E-Commerce Week, it is still hard to work in ICT policy because most actors continue to be closed in their silos. Reinforcing his point, Fredriksson noted the need to enhance cross-fertilisation between policy environments and cited Internet governance and trade policy as examples. When questioned by Cade about the eTrade for All initiative, Fredriksson explained that the project uses an online platform to offer resources and capacity-building expertise in seven different policy areas related to e-commerce.
Mr Preetam Maloor, Strategy and Policy advisor at ITU, reflected on UNCTAD's experiences and the different ways in which stakeholders can engage in ITU policy-making. Maloor noted that while only states could originally participate in ITU activities, it now has members from the private sector, civil society, and academia. He also said that aside from the ITU plenipotentiary conference, there are other multiple events and initiatives, such as the World Telecommunication/ICT Policy Forum (WTPF) and the ITU Council Working Group on International Internet-related Public Policy Issues (CWG-Internet), that are open to stakeholder participation.
Due to the unavoidable absence of Dr Joanna Kulesza, a member of ICANN's Noncommercial Users Constituency (NCUC), the moderator highlighted some of Kulesza's planned remarks. Kulesza pointed out the existing international law regimes 'that could be used for reference with regards to protecting the core of the Internet'. Drawing insights from these regimes, she stressed the existence of four principles that could be developed in Internet public policy making: sovereignty, jurisdiction, state responsibility, and due diligence.
Dr Tatiana Tropina, Senior Researcher at the Max Planck Institute for Foreign and International Criminal Law, talked about about the recent developments in public policymaking in the cybersecurity field. Tropina stressed that multistakeholderism has the potential to be used in some technical aspects of cybersecurity policymaking. Finally, she also questioned the lack of efficacy of multistakeholderism and suggested the need to look for alternative venues, institutions or mechanisms, to deal with cybersecurity policy-making.
Ms Xianhong Hu, Progam Specialist, UNESCO, talked about the organisation's work on collaboration in Internet governance. Hu pointed out that UNESCO has embraced multistakeholderism for a long time, and after the Tunis Agenda geared its efforts to develop more collaboration in Internet governance. Advocating for a more holistic approach, she highlighted the recently proposed 'ROMA' principles to guide Internet Governance: human rights, open, multistakeholderism and access. She also said that UNESCO is undertaking efforts to develop a set of indicators to evaluate the implementation of multistakeholder practices.
Ms Anja Gengo, National and Regional IGF Initiatives Focal Point, IGF Secretariat, expressed her vision about collaboration in Internet policy-making. Gengo stressed the complexities surrounding Internet governance, and that multistakeholderism and the IGF provide good opportunities for constructive discussions and the development of effective solutions. She praised the collaborative and bottom-up process, grounding the construction of IGF's agenda, particularly highlighting topics such as gender issues which have been raised and included in discussion for the the last three years following initiatives from different stakeholders. She also praised the development of open and inclusive multistakeholder initiatives replicating the IGF approach in local level.
By Joao Araujo Monteiro Neto
Related topics
Related event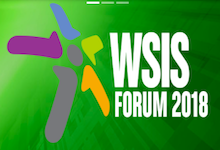 WSIS Forum 2018
19 Mar 2018 09:00h - 23 Mar 2018 18:00h
Geneva, Switzerland