Cyberlaw trends of 2018
19 Mar 2018 16:30h - 18:15h
Event report
[Read more session reports from the WSIS Forum 2018]
The moderator, Mr Pavan Duggal, chairman of the International Commission on Cyber Security Law, started by stating that the objective of the session was to help identify some of the key cyberlaw trends that are emerging on the landscape in the year 2018 and then also to open the session up for discussion amongst participants to get their perspectives as to what is happening concerning cyberlaw in their respective countries.
He noted that cyberlaw as a discipline is becoming increasingly relevant, and that the global cost of cybercrime is going to increase massively. It is expected that it will reach 6 trillion dollars by 2021, a figure that can even be much higher if unreported losses are to be considered. Duggal pointed out that not only figures are disturbing, but that cybercriminals are also miles ahead of regulators and governments. For Duggal, gone are the days when these criminals merely wanted to show technological superiority. Cybercrime is now a ruthless, professional work whose consequences, along with the ramifications of data security breaches can cause massive damage.
He pointed out that cyber extortion, digital reputation, critical information infrastructure, ransomware, cyber threats to banks, data localisation, compliance, blockchain and issues of cyber sovereignty are trends in the area for 2018, calling the attention of the audience to the fact that a fragmented jurisdictional landscape and the lack of an international cyberlaw regime, with countries focusing too much attention in national solutions to global issues, may render these problems even more difficult to face.
Duggal concluded calling for more capacity building in the area and for a harmonised approach to cyberlaw based on common globally-accepted minimal principles, that help balance conflicting values such as national interests and the protection and preservation of individual liberties. He also recommended a more proactive and responsive approach to cybercrime detection, investigation and prosecution, in which MLATs must give way to far more cogent effective remedies, including the discussion of an international cyber criminal court.
Dr Alfredo Ronchi, general secretary of the European Commission-MEDICI Framework, started his intervention by answering a question from the audience about how strong privacy and data protection could still be considered as rights. He said that the idea that each individual owned his or her own data was accurate according to the original concepts of data and ownership. Ronchi said, however, that experts in humanities did not have many chances to interact with scientists about technology as it was being developed, and when this started happening it was too late to prevent some of the dangers. He reminded the audience that today we no longer know how many people have access to our data, share it, or for what reasons, since we easily provide data in exchange for a service, an application, or simply access to a website, and rarely pay attention to the terms or keep track of it.
Ronchi concluded that an environment that was supposed to improve our lives has in some way enslaved us instead, causing stress, compromising quality of life, and it is necessary to reshape the use of technology considering privacy factors, ethics, and other aspects that are endangered by the current approach.
By Cláudio Lucena
Related topics
Related event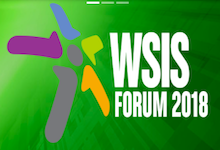 WSIS Forum 2018
19 Mar 2018 09:00h - 23 Mar 2018 18:00h
Geneva, Switzerland