Connecting communities by building digital skills – A way towards the SDGs
22 Mar 2018 16:30h - 18:15h
Event report
[Read more session reports from the WSIS Forum 2018]
Ms Elizabeth Thomas-Raynaud, senior policy executive, Digital Economy and director of BASIS, International Chamber of Commerce, talked of how Gulf Cooperation Council (GCC) countries are expecting 1.3 million digital jobs by 2025. UNESCO has reported that the integration of educational content in sub-Saharan Africa has not met the digital skills level which will be needed in the near future. She stated that connectivity issues and gaps in digital skills were recognised, but that the session's focus would be on digital skill gaps within and between countries.
Ms Lauren Dawes, senior international relations manager at the GSMA, talked of the mobile sector's view of connectivity which is holistic; access, affordability, and digital skills are inseparable when discussing digital gaps. Dawes highlighted how the GSMA was committed to reaching the sustainable development goals (SDGs) and that they had made significant progress between 2016 and 2017 with their Mobile for Development initiative. The programme brings together mobile operators, innovators, governments, and the development community to identify and deliver innovations. It is active in various fields such as financial services, health, agriculture, digital identity, energy, water, sanitation, disaster resilience, and gender equality. Dawes also mentioned the Mobile Policy Handbook: An Insider's Guide to the Issues which the GSMA recently published. It was initially developed in India and later localised for Rwanda accompanied by training for trainers. Rwanda saw an increase in data usage by 70%, and new mobile subscribers went up by 15% through local training sessions conducted by trained sales representatives who educate end-users.
A session participant from Japan approached the skills gap from the security aspect, noting that although the numbers of basic mobile users have been dramatically increasing, the security perspective of this use was not well-known. She stated that the government needs to fill this gap, citing examples from the National Center of Incident Readiness and Strategy for Cybersecurity (NISC) of Japan which has responsibility of raising awareness of all mobile users. Producing easy-to-understand leaflets and mobile applications, organising events targeting older and younger groups of the population, and celebrating Cybersecurity Month each February were cited among the many activities of NISC. They are also considering options to expand these activities beyond Japan, throughout Asia. She also specified the importance of having content in the local language to increase reach and impact.
Ms Carolyn Nguyen, technology policy director at Microsoft, took the floor with the question: 'How do we create a human-centric policy framework which is also sustainable?' She mentioned that some jobs would change, while some would emerge, and some would disappear. Citing a study showing that by 2030, 65% of children in primary school today will work in jobs that do not exist at the moment, she added that more than one-third of desirable skills would not be the same as the desirable skills of today. A multistakeholder approach was pointed to with the need for specific collaboration between government, academia, and civil society. She mentioned the increasing importance of soft and critical skills, which will enable children to adapt easily to the flexible jobs of the future. Nguyen spoke of Microsoft's YouthSpark programme which partners with governments, schools, civil society organisations, and teachers, as they understand the unique needs of their own communities. Another point that was underlined was how many of skills required for the near future will not require a four-year degree, but briefer skill and capacity building efforts through certifications and training. Social factors that can prevent acquiring new skills were touched on citing research which shows that although there are many free resources and skills-building courses available, some communities across the globe are not participating. The lack of a joint taxonomy for international discussions and research and the need to identify barriers and motivating factors when it comes to gaining new skills were underlined.
Ms Susana Puerto, coordinator of the Global Initiative on Decent Jobs for Youth at the International Labour Organization (ILO), took a different outlook on digital disruptions which also have positive impacts, such as making it easier to overcome certain offline barriers. Puerto talked of various elements regarding the way forward in addressing the digital skills gap: realising how digital skills development efforts need to meet the needs of the market and the demand; understanding the penetration of digital skills of agriculture and services; accepting that the temporary skills gap in the labour market will always remain but it does not always mean the gap is with the youth. She cited many examples where young people bring skills and abilities that their managers and superiors lack. Puerto mentioned the gig economy which prevents training on the job, and leaves employees without the traditional protection that full-time employment provides. Regulating and monitoring the gig economy by governments was suggested.
Ms Joan Park talked of efforts in the Philippines where the government is working hard on the digitalisation of education with activities such as providing computers to schools in remote areas. Their NGOs' observations showed that the computers were not being used, so they started working with local government units and non-profits who had experience in these schools to increase digital literacy rates. They also trained teachers, working with a curriculum developer and conducting skills-teaching workshops. While working on computer sciences it was noticed that less than 10% of students could type with 10 fingers, which is a barrier on key abilities such as coding. They worked on a hybrid online and offline programme model where participants can build typing skills.
A participant from Bangladesh spoke of examples such as the creation of digital e-government and e-commerce centres which host 10 000 digital entrepreneurs selling goods and services in the country. Bangladesh has over 100 000 freelancers which makes it the third largest national gig economy where freelancers mostly write, do search engine optimisation (SEO), and utilise similar self-taught digital skills. The Bangladeshi government experiments with different programmes. For one programme, they tried training religious leaders, Imams of mosques, getting them on the government-created social media platform to help tackle online terrorism recruitment. Civil servants were another group reluctant to transform. Nonetheless, a national platform was created, and the Prime Minister's Office made it mandatory for each body to create their own website using the templates provided, and to train their teams utilising the carrot-and-stick method. Thanks to the programme, 70 000 civil servants were trained in three years. Another platform was created where municipalities and citizens can interact and communicate. This has resulted in positive, collective action where citizens have joined forces with public offices to clean rivers and parks, and have taken on other tasks.
Participants were asked about barriers and pitfalls of policy in the area. Nyugen underlined the need for a high-level focus by governments, which in turn makes it easier for the private sector to come in and address specific issues within the concrete frameworks governments can put in place. The importance of engagement with local communities was also pointed to, since bigger actors usually do not have the correct and complete information local government bodies and civil society communities have. The importance of creating curriculum and content for the needs of each community was stressed by Park. Dawes mentioned GSMA's capacity building programme which offers training for policymakers and regulators, educating them on the latest technological developments such as 5G, spectrum taxation, children and mobile, women and mobile, and the SDGs and how to achieve them through mobile technologies. The programme aims to create a more current and encouraging policy environment for the mobile sector. Puerto mentioned the importance of scaling up efforts by increasing engagement and collaboration between stakeholders like the ILO's campaign for digitalised youth which aims to train 5 million young people by 2030, working with employers while promoting an entrepreneurial environment for young people to see them grow in sustainable jobs.
The session ended with calls for more in-depth discussions on the topic.
By Su Sonia Herring
Related topics
Related event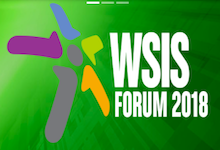 WSIS Forum 2018
19 Mar 2018 09:00h - 23 Mar 2018 18:00h
Geneva, Switzerland