Community networks: How the unconnected connect themselves
19 Mar 2018 09:00h - 10:45h
Event report
[Read more session reports from the WSIS Forum 2018]
Organised by the Association for Progressive Communications (APC) and the Internet Society, the session focused on community networks and how to remove barriers to connectivity. Ms Jane Coffin, director of development strategy of Internet Society, and Dr Carlos Rey-Moreno, project manager at APC moderated the session.
In her opening remarks, Coffin mentioned that half of the world's population is not connected to the Internet. She added that many organisations such as APC, the Internet Society and the International Telecommunications Union (ITU) are interested in local solutions for connectivity. She described community networks as local networks built by, for and with the community. Coffin referred to a project implemented together with Steve Song, which aimed to wire a village in Kenya by engaging the local community.
A video recording of Dr Panayotis Antoniadis, co-founder of Nethood, was shown in which he highlighted a project in Sarantaporo, Greece, with more than 100 access nodes and almost 20 backbone nodes in 11 villages. He mentioned that the group of about 50 node owners has 13 women participating. The plan for the next couple of years is to train local members to run their own networks according to their needs. Antoniadis mentioned some recently completed training sessions for trainers, who will in turn train other locals to manage their own nodes. He concluded by saying that community networks would take the world by storm.
Ms María Florencia López Pezé, communication and documentation team, Altermundi, mentioned that Altermundi is a project in Argentina about creating a router that will meet community needs and empower the community. She added that if people were availed of the resources they need, they could manage their own networks. The motivation was the realisation that there was a need for a router that answers hardware market problems, hence the 'libre' router. Pezé showed documentation of the libre router project, which gives community information and provides experience on how to deploy the project. She added that the first prototype is being tested in rural Argentina. She also thanked the Internet society for the funding to make this project possible.
Giving an Indian perspective remotely, Dr Sarbani Banerjee Belur, senior project research scientist at Gram Marg, referred to SDG 9 – build resilient infrastructure, to promote inclusive and sustainable industrialisation and foster innovation. She mentioned that the challenge was in finding solutions to connect large rural offline populations at minimal cost and coming up with strategies for narrowing the usage gaps across regions. She showcased some projects including a TV UHF pilot test-bed, Village Palghar, and seeding a community-led network. She emphasised the main pillars of the community network: ownership, involvement, decision-making, operation and maintenance, stating that these were needed to make projects a success. The project has connected between 50 – 60 users per village at 5Mbps, and usage of 150GB per month, per village.
Mr Ramon Roca, board member and co-founder of Guifi.net, showed a map of the network in the north east of Spain. He acknowledged that they were experiencing similar problems as Argentina and India, especially for areas where there was low interest from Internet service providers because of low return on investment. He mentioned that the project started 15 years ago with the aim of connecting mountainous and rural/urban areas (of over 50,000 people) with a vision to not only connect the unconnected, but also give the same quality and speed in both rural and urban areas. He concluded that community networks are exclusive business models and are possible, but need cooperation between stakeholders.
Speaking remotely, Ms Sol Luca de Tena, director of Zenzeleni Networks, gave a South African perspective, highlighting that their working area included 100 000 people – 93% unemployed, and 90% who have not completed school, with poor infrastructure and an average monthly household income of 500 South African Rand (about USD$ 42). Three schools and two local businesses have been connected with 100 unique devices and 600GB of data. Zenzeleni has also built its own backbone. Tena ended with a quote from one of the Zenzeleni board members, Davide Lukhozi, who spent most of his youth working in the mines: 'I didn't know that you could get a little bit of money without having to go outside of the community to work hard. That is the future I want for my children.'
By Sarah Kiden
Related topics
Related event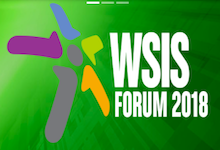 WSIS Forum 2018
19 Mar 2018 09:00h - 23 Mar 2018 18:00h
Geneva, Switzerland