Building vibrant ICT centric innovation ecosystems – Financing mechanisms for accelerating digital transformation, session 4
19 Mar 2018 16:30h - 18:15h
Event report
[Read more session reports from the WSIS Forum 2018]
Mr Jaroslaw Ponder, head of the Office for Europe, International Telecommunication Union (ITU), introduced the panel and highlighted the main question for them: how best to foster digital transformation from the point of financing mechanisms?
Ms Minerva Novero-Belec, of the United Nations Development Programme, centred her presentation on the importance of measuring investments and where to put money. She talked about the goals and targets of the sustainable development goals (SDGs) and the need for innovative approaches, as well as for resources, expertise and commitment. Novero-Belec raised one central question: Where to invest money to achieve SDGs? She then considered that there can be no cherry picking concerning the goals to invest in, and no one goal should have priority. She highlighted the importance of having equitable access and transparency by governments so that there is equitable distribution of the benefits.
Ms Simone Conrad, advisor at the Sector Project Sustainable Digital Development, GIZ, concentrated on the policy focus of German development corporations concerning digital transformation. Digital transformation is regarded as a key driver for economic growth that will affect all sectors. Conrad highlighted five areas of concern to GIZ: harnessing digital innovation, reinforcing democratic processes, helping with forcibly displaced people, creating future-proof jobs, and safeguarding human rights. Three main digital initiatives were considered worth investing in: empowering women and girls in ICT, fostering tech entrepreneurship, and supporting young digital change-makers.
Mr Johan Hellström, program manager and specialist on digital development at the Swedish International Development Corporation, gave a brief overview of how the Swedish government promotes opportunity and better living conditions through international aid, to people living in poverty. He presented the numbers and descriptions of international assistance. Hellström stressed that capacity building is necessary at all levels.
Mr Anir Chowdhury, policy advisor at Prime Minister's Office, Bangladesh, began his speech by stating that development aid is less and less necessary in Bangladesh. According to Chowdhury, there are five things happening in Bangladesh, to help make it a more innovative country: the policy mindset is changing, risk capital is increasing, incubation opportunities are growing, government is learning and making fewer mistakes, is up-scaling platforms, and is creating a competitive environment to move towards excellency. He believes traditional financing mechanisms are withering. Public-Private Partnerships (PPPs), micro entrepreneurship, innovation funds, incubation opportunities, crowdsourcing, and social impact funds are new areas of financing that the government has been approaching.
Mr Kofi Assante, chief executive officer at the Ghana Investment Fund for Electronic Communications (GIFEC) presented a brief overview of Ghana and GIFEC. According to him, the main mandate given to GIFEC is to mobilise financial resources and facilitate access to ICT services. Assante described initiatives in which GIFEC has helped in supporting under-served areas with ICT services.
Mr Alex Wong, head of Global Challenge Partnerships, World Economic Forum, explained that the current WEF focus is getting deeper into infrastructure issues, for instance, exploring how to end financial gaps in order to connect the last mile. He described the framework being used, which is one of the 'ecosystem approach'. Wong explained how studies show that doubling broadband speeds increases economic growth, and that therefore 3G is not sufficient to fuel the 4th industrial revolution.
Mr Bocar A. Ba, chief executive officer of SAMENA Telecommunications Council, presented the perspective from telecoms operators. To Ba, it is vital to know the scale of investment before thinking of financing mechanisms. He believes that some SDGs are mandates of the government, while others can be fulfilled by the private sector, therefore alignment and collective engagement are needed. To him, sustainability of the digital infrastructure is a must for many innovations such as the Internet of Things.
Ms Marie Debombourg, chief operating officer at WeCan.Fund SA, explained how crowdfunding is a growing alternative to financing projects, and can change the real economy. According to her, in Switzerland alone, the crowdfunding market is above USD$ 700 million. She mentioned five types of crowdfunding: reward-based, coordinating, investing, lending, and initial coin offerings. Debombourg then presented some examples of crowdfunding platforms in Geneva and Switzerland.
Mr Turhan Muluk, global public policy manager at Intel, highlighted the importance of 5G for digital transformation. He believes technologies alone are not sufficient, and that digitally skilled people are necessary. Intel has financed and invested millions in education and qualification programmes, including for low income people, and students.
By Pedro Vilela
Related topics
Related event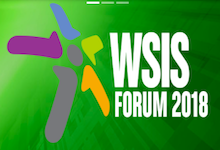 WSIS Forum 2018
19 Mar 2018 09:00h - 23 Mar 2018 18:00h
Geneva, Switzerland