Building vibrant ICT centric innovation ecosystems – High-level session
19 Mar 2018 14:30h - 16:15h
Event report
[Read more session reports from the WSIS Forum 2018]
In his opening remarks, Mr Brahima Sanou, director of the Telecommunication Development Bureau (BDT) at the International Telecommunication Union (ITU), reminded the meeting of BDT's work with member states to embrace emerging technologies such as big data, 5G, cloud computing, the Internet of Things (IoT), and artificial intelligence (AI). He reiterated the importance of integrating best practices on digital innovation into the national development agenda, and referenced the BDT's latest publications which include the toolkits and digital innovation profiles of participating member states.
Ms Lucija Ljubic Lepine, Ambassador Extraordinary and Plenipotentiary, Permanent Representative of Bosnia and Herzegovina, explained that her country faced numerous challenges and opportunities regarding digital innovation. Opportunities included well-developed infrastructure, talent, and technical skills. Amb. Lepine posited that the enabling environment could be strengthened through collaboration with the ITU for specific engagements such as implementing high-value projects. She stated that the digital profile on Bosnia and Herzegovina will raise awareness among all domestic stakeholders, thereby providing a strategic advantage towards digital transformation.
Ms Irini Reljin, assistant minister for the Ministry of Trade, Tourism and Telecommunications in Serbia, explained that Serbia's digital profile showcased current achievements and areas for further progress. Relijn spoke about domestic arrangements to auction spectrum for 5G for its deployment by 2020. She underscored that challenges to innovation in IT infrastructure included the human element, and more specifically, fostering technological skills among children and the elderly. She highlighted a caravan in Serbia that goes to cities and rural areas to promote digital literacy and safe Internet use.
Mr Marin Cebotari, deputy permanent representative of the Permanent Mission of the Republic of Moldova to the UN Office in Geneva, thanked the BDT for making resources available to develop Moldova's digital innovation profile. Cebotari cited his country's new approach to policy making as an underpinning of its digital transformation. He listed some achievements, including the creation of a new entity to conduct research, development and innovation (R+D+I); the creation of technological excellence centres and IT parks; and a new forum to foster the growth of ICT start-ups.
A representative of the Ministry of Technology, Communication and Innovation apologised for the minister's unavoidable absence. He stated that Mauritius had been setting up measures for digital transformation, including full fibre-to-the-home (FTTH) coverage, since September 2017; plans to connect to two more international submarine telecommunications cables; ICT inclusion in school curricula to foster skills and mitigate against skills mismatch for university graduates entering the job market; and digital government. The newly launched Mauritian research and innovation council matches funding with the private sector for innovation projects.
Mr André Müller Borges, secretary of telecommunications for the Ministry of Science, Technology, Innovation and Communications in Brazil, announced the launch of a five-year digital transformation strategy in Brazil, which will prioritise, inter alia, the use of big data to shape business models, opportunities for e-commerce, coherence among domestic actors, and digital transformation within government.
Ms Maria-Manuela Catrina, secretary of state at the Ministry of Communication and Information Society of Romania, commented that Romania has a considerable number of highly-skilled professionals. The government is focused on building digital skills nationally. Catrina indicated that computer science will become mandatory in school curricula. She emphasised the need to make ICT a 'social elevator' for talented children regardless of their location. She underscored the importance of developing a secure environment for innovation, and allowing mistakes to be made as part of the process.
Mr Jaromir Novak, chairman of the Council of the Czech Telecommunication Office in the Czech Republic, listed some of his country's achievements in innovation. He outlined a current local trend whereby emphasis was placed on developing more messaging applications and social media networks. He stressed the importance of 4G and 5G networks to support digital transformation, and the need for enhanced skills across various publics.
Mr Konstantinos Masselos, president of the Hellenic Telecommunications & Post Commission (EETT) of Greece, affirmed that despite past economic challenges the Greek start-up scene was vibrant. He referred to Equifund – a 260 million euro fund established in collaboration with the EU to support three innovation windows: early-stage innovators, small and medium-sized enterprises (SMEs) with high growth potential, and SMEs requiring immediate funding for scaling-up. Masselos showcased the Greek government's prominent initiatives for digital innovation including an extensive broadband network, and a smart farming project. He posited that the regulator could play a role in linking distinguished Greek experts to international organisations.
Questions to the panellists touched on collaborations to link national innovation systems to bigger markets, measuring the so-called accelerated digital transformation, and immediate steps to foster digital transformation in their respective countries. Panellists emphasised training, cross-border cooperation and harmonisation of transformation strategies, and hybrid metrics to measure digital transformation accurately.
By Kevon Swift
Related event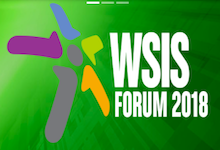 WSIS Forum 2018
19 Mar 2018 09:00h - 23 Mar 2018 18:00h
Geneva, Switzerland