Building information foundation for knowledge societies in China
19 Mar 2018 11:00h - 13:00h
Event report
[Read more session reports from the WSIS Forum 2018]
The moderator, Mr Yuan Ye, chief engineer of the market department at China Comservice International Corporation, explained that the session would present success projects in the ICT domains aimed at enabling a more efficient digital transformation in China.
Mr Li Kang, deputy manager at China Mobile Online Service Co. Ltd, noted that China Mobile is contributing to the 'Targeted Poverty Elevation' strategy of the Chinese government in several ways. First, it has extended network coverage to 33,000 villages and is using mobile Internet to alleviate poverty. Second, its research and development programme is providing ICT services for the government and Third Party Administrators (TPAs). TPAs aim to solve information asymmetry and aid poverty alleviation by enabling dynamic management of poverty data. Kang added that their services combine fragmented dynamic behaviour and poverty data to be evaluated in a comprehensive manner. This shows what the real needs of the unconnected individuals and communities are.
Mr Xiaowen Li, General Manager at China Communications Technology Co. Ltd, presented the 'A New Dream – AND Education' platform. This platform is a mobile online education solution for children in the countryside whose parents are migrant workers. It is an open cloud platform that provides high-quality education and informs parents about their children's progress. Rural teachers get online support from urban teachers, multimedia content, and new digital skills. There are already 179 million users in China and Li stressed plans to expand into Pakistan, South Africa, and Brazil. He also noted that the support of the government is crucial, and that implementation must go hand in hand with a strategy to bridge the education gap.
From the online security perspective, Mr Lijun Liu, deputy director of the Research and Support Center at China Mobile Information Security Center, explained how China Mobile protects the safety and rights of its users. Various types of fraud that include impersonation of the police, court officials, operators, social security officials, and others exist. 'Communication fraud has singularly harmed the interest of users and has had a huge economic loss which reached the peak of 3.5 billion in China in 2015', Liu said. China Mobile implements a wide scope of technical and management measures and was the first to provide a free service that carries out real-time blocking of distributed denial of service (DDoS) attack calls without affecting users' normal communication.
Mr Xingang Yu, VP of Wireless Network Marketing & Solution Sales at Huawei Technologies Co. Ltd, talked about the 5G-ready networks and smart connections over the last decade in China. 'The government sees 5G as a fundamental development in ICT and wishes to deploy it massively', Yu said. Operators might start a trial commercial network in major cities in China. He stressed that ICT is the cornerstone of national competitiveness. China is currently implementing projects for a digitalised knowledge-based and sustainable China. The first national smart city, Yingtan, is an example of this.
Talking about security of express delivery was Mr Lihe Wang, project manager/senior IT consultant at Jiangsu Posts and Telecommunications Planning and Designing Institute Company Ltd. Wang reminded the audience that express delivery has brought convenience to the public but has also increased criminal activities and challenges to national security. On one hand there is fast growth and increased organisational complexity. On the other, there is a lack of security supervisors and backward tools. To improve security, Wang emphasised, a comprehensive data collection must be in place, at all points – receiving, sorting, transportation, and delivery.
Mrs Jing Chen, assistant secretary-general at the Information Accessibility Research Association, stressed that information accessibility is essential for building a knowledge-based society. 'The fair access to information is the basic right of all people', she noted. China has 85 million people with disabilities and 40% are illiterate. The Internet offers technologies that can help those in need. The Information Accessibility Research Association has set up China's first information accessibility expert team to develop tools to this end. Chen added that government support and a legal framework are necessary for improving accessibility.
By Jana Mišić
Related event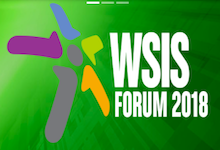 WSIS Forum 2018
19 Mar 2018 09:00h - 23 Mar 2018 18:00h
Geneva, Switzerland
Related technologies