Broadband commission dialog at WSIS forum
22 Mar 2018 13:15h - 14:00h
Event report
[Read more session reports from the WSIS Forum 2018]
This session, moderated by Ms Philippa Biggs, senior policy analyst, at the International Telecommunication Union (ITU), and content coordinator to the Broadband Commission, featured discussions on the work of the Broadband Commission for Sustainable Development aiming at bringing online the world's 3.8 billion people not connected to the Internet.
Ms Doreen Bogdan Martin, chief of strategic planning and membership at the ITU, and executive secretary to the Broadband Commission, first presented the Broadband Commission and its recent history. The Broadband Commission has been gathering industry CEOs, policymakers, international agencies, and academia since 2010, initially to develop a framework for achieving the millennium development goals (MDGs), predecessors of the sustainable development goals (SDGs). As part of the Commission, three working groups are currently running, on digital entrepreneurship, digital health, and the least developed countries (LDCs).
After having introduced the previous frameworks of targets set by the Commission, Biggs highlighted the new framework, adopted this year, of Targets for 2025 for 'Connecting the Other Half' of the world's population. These targets include for instance that 'by 2025 Broadband/Internet user penetration should reach 75% worldwide, 65% in developing countries, and 35% in LDCs'.
Mr Patrick Nyirishema, director general of the Rwanda Utilities Regulatory Authority, emphasised the role of the Broadband Commission in increasing investments for broadband access in Africa. Nyirishema referred to the leading position of Rwanda in this field and gave the example of the recent adoption of the Smart Rwanda Master Plan for investing in information and communication technologies (ICTs). At the continental level, the Broadband Commission has been a key factor in recent developments, such as the launch of the Smart Africa Manifesto, which took place as part of the Transform Africa conference held in 2013 in Rwanda.
Mr Paul Mitchell, senior director for technology policy at Microsoft, gave insights on the crucial importance of targets for Microsoft. Targets such as those developed by the Broadband Commission are fundamental for enabling people and organisations worldwide to connect to the digital world. The current changes in the digital ecosystem also require taking into account needs for both accessibility and affordability.
Mr Tomas Lamanauskas, group director for public policy at VEON, highlighted the need not only to focus on targets in terms of access, but also on skills and content. Digital entrepreneurship is also very important for VEON. This company develops several programmes on entrepreneurship in order to allow individuals to use technology and overcome 'unconnectedness'.
By Clement Perarnaud
Related topics
Related event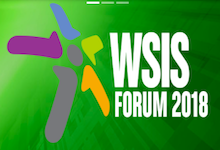 WSIS Forum 2018
19 Mar 2018 09:00h - 23 Mar 2018 18:00h
Geneva, Switzerland