Enabling environment
22 Mar 2018 11:00h - 13:00h
Event report
[Read more session reports from the WSIS Forum 2018]
Moderator, Dr Kemal Huseinovic, chief, IEE Department of the International Telecommunication Union (ITU) Telecommunication Development Bureau (BDT), said that core questions to address in this session are what are the greatest challenges facing collaborative regulation for digital transformation, and what are the toughest questions regulators and policymakers need to face to achieve such collaboration?
To set the scene, Ms Youlia Lozanova, ITU-BDT Regulatory and market environment division, gave a presentation about a flagship project on regulation that the ITU has been working on. She said that the ICTs are important because of the powerful influence they have on consumers, industry, and society as a whole. Without sound rules, redress mechanisms, enforcement, and harmonisation, many of the technologies we take for granted today might not have come of age. The ITU defined five generations of ICT regulation:
Generation 1: Regulated public monopolies

Generation 2: Opening markets for the first time, starting with liberalisation

Generation 3: Free regulation focuses on competition and investment, striving to connect everyone and protect consumers, at best

Generation 4: Regulators tune regulator regimes towards faster technological change for economic and social good

Generation 5: Collaborative regulation rewrites the rules because it is open, collaborative, and consensus based
Collaborative regulation strengthens institutional capacities, legal mandates of regulators, and sound regulatory regimes, and enhances competition frameworks. In a nutshell, it builds on the high-level principles set on best practices guidelines of the Global Symposium of Regulators for the past 15 years.
Ms Christine Arida, executive director for telecom services and planning at the National Telecom Regulatory Authority of Egypt gave a data overview:
In Egypt, 65% of the population is under the age of 35 and these generations are all tech savvy.

Penetration of mobile exceeds 110%

Mobile broadband has been on the rise for many years with annual gross of 14%
In only a few years, Egypt has come from one to four main telecom players that are providing both fixed and mobile services. With the rapid take-up of technology, access devices are becoming more affordable and connectivity prices are decreasing. This has resulted in an increased broadband infrastructure, but in a decline of core revenue from traditional telecom services. Arida said that with sustainable development in mind, the government is re-looking at telecom regulations because it is needed to continue to promote widespread affordable access, but also because infrastructure alone is not enough anymore. She concluded by saying that it is important to convert access into economic and social development, which is a way to close the digital exclusion gap and achieve the sustainable development goals.
Mr Manuel Da Costa Cabral, external affairs expert at the Regulatory Authority for Electronic Communications in Portugal (ANACOM), noted that it is unclear how technology will evolve and what economic and cultural values will be like in 20 years. The interrelation between sectors and different actors is much more important, as well as more complex and challenging than before. He said that instead of rules, it is more important to set out principles that should be applied to face problems that exist today, and for the future, because it is hard to define concrete measures for the future today.
Ms Aarti Holla-Maini, secretary general of the EMEA Satellite Operators Association (ESOA), recognised the role of the ITU in convening the largest collaborative dialogue in the world and in keeping pace with changing technology. Holla-Maini reminded participants that it is not possible to regulate without knowing or understanding. For that, there is a need for collaborative dialogue where the public sector engages with the private sector to inform itself and understand so that it can responsibly and properly regulate. 'The future is going to be one of convergence and hybrid solutions', she concluded.
Mr Pablo Bello, secretary general of ASIET – Asociación Interamericana de Empresas de Telecomunicaciones, noted that still half of the population in the world is not connected. In Latin America, 50% of people are living in the twenty-first century while the other half still lives 'in the past'. Bello stated: 'Closing the digital divide and consolidating the work on infrastructure in countries is a moral mandate and an economic need.' He reinforced the notion that there is a need to work together, but also to work quickly. Investment in networks, competition, and innovation are needed. It is estimated that in Latin America more than $400 billion are needed in next seven years to close the gap with OECD countries in terms of connectivity. He concluded by giving four points to focus on to close the digital gap: agreed goals, trust, mutual understanding, and institutional process.
By Aida Mahmutovic
Related topics
Related event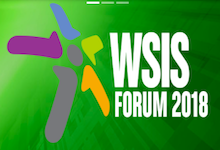 WSIS Forum 2018
19 Mar 2018 09:00h - 23 Mar 2018 18:00h
Geneva, Switzerland