Achieving the SDGs through ethically aligned design
22 Mar 2018 16:30h - 18:15h
Event report
[Read more session reports from the WSIS Forum 2018]
The broader questions that this panel sought to address were introduced by the moderator, Mr John C. Havens, executive director of the Institute of Electrical and Electronics Engineers' (IEEE) Global Initiative on Ethics of Autonomous and Intelligent Systems. Havens argued that it is important to understand what trust means in the 'age of the algorithms' and how it can be built. Further, he called for a better understanding of how artificial intelligence (AI) and autonomous systems (AS) affect human agency, identity, and emotions.
The first speaker, Ms Katryna Dow, founder and CEO, Meeco, focused her intervention on an ethics-based approach to designing AI. She asked, 'how can we build AI that reflects our values?' She suggested that it is important to look at (human) agency and how this manifests in the physical world in order to understand how to design better AI and AS systems and carry (human) agency over into the digital work. She cautioned that we can no longer approach technology as a silo or a distinct sector; technology touches on everything we do. This is also the reason why technology is crucial for achieving the sustainable development goals (SDGs) and touches them all.
The next speaker, Ms Laura Musikanski, executive director, Happiness Alliance, explained that she is concerned with understanding how to guide the development and management of AI and AS in order to support and further human well-being. The domains of well-being she looks at are defined by the SDGS, the Gross National Happiness index, the Human Development Index and a number of existing metrics. The indicators derived from these are to inform the development and management of AI and AS. She argued that this measurement approach is crucial because we can only manage what we can measure. She concluded by urging everyone to 'manage and measure AI and AS for a world where we all have the opportunity to experience well-being'.
Focusing specifically on questions of ethics and AI, Mr Paul Cunningham, president & CEO, International Information Management Corporation, reminded the audience about the importance of context for understanding the way in which we experience and interpret the world. As such, we need to recognise that AI is situated in a specific culture and a specific context. He urged for greater reflection about cultural biases and intercultural issues in the context of AI and AS. In his view, one of the biggest challenges for the future is to think about the role of non-human intelligence (AI and AS) in areas such as education and health care.
Ms Anja Kaspersen, director, United Nations Office of Disarmament Affairs, Geneva, looked at responsible innovation, in particular in the context of SDG 9 and SDG 17. She urged for more initiatives that look at how to code responsibly and consciously. Despite its positive effects, she reminded us that technology has also always played a role as a driver for competition and conflict between countries. However, she argued that with recent developments in AI and AS, the scale and the reach of technology's impact has shifted. In terms of decision-making about different forms of technology, she outlined three key elements. First, conscious coding will be important. Second, finding suitable forms of governance for offering guidance on the use of technology will be crucial. Third, greater transparency about the development and use of new technology is needed and it will be key to find ways of involving the public to a greater degree.
Last but not least, Amb. Amandeep Singh Gill, chair of the Group of Governmental Experts of the Convention on Certain Conventional Weapons on Lethal Autonomous Weapons Systems, offered thoughts on integrating machines into our social and economic lives. He argued that our lives are in many ways dominated by technology and that it is important to re-think our relationship with technology in order to ensure that it serves us as well as our needs and not the other way around. He urged the audience to recognise the importance of interdisciplinary approaches and, more generally, the importance of working together in order to address the challenges associated with AI and AS. He argued that issues of AI and AS needs constant review as developments are so fast-paced that regulation cannot keep up.
By Katharina E. Höne
Related topics
Related event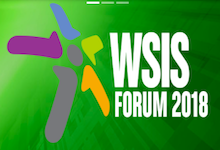 WSIS Forum 2018
19 Mar 2018 09:00h - 23 Mar 2018 18:00h
Geneva, Switzerland