2008-2018: A Decade of the COP Initiative – priorities for the future of youth empowerment online
21 Mar 2018 15:00h - 16:30h
Event report
[Read more session reports from the WSIS Forum 2018]
Mrs Doreen Bogdan Martin, chief of Strategic Planning and Membership at the International Telecommunication Union (ITU), moderated the session.
Mr Houlin Zhao, secretary general, ITU, started his speech by highlighting the 10th anniversary of the Child Online Protection (COP) initiatives in WSIS noting that one-fifth of all children online suffered from online crimes. He presented a brief record of the initiative since its beginnings. Zhao praised the ITU Working Group on COP for its 18 years of work. Part of the success of this work lies in the establishment of helplines for children. He also praised the work of Interpol in COP by establishing cooperation frameworks within several different countries.
Mr Noel Curran, director general, European Broadcasting Union (EBU), began his presentation by explaining the challenge of protecting children online without restricting opportunities and benefits of access. He mentioned the complexity and strength of child protection guidelines in television and traditional media and how there is nothing like that for the Internet. Curran noted that platform intermediaries have little to no responsibility on COP. He once again mentioned the efforts of broadcasters in collaborating with government, complying with guidelines and educating policymakers on COP issues, and how that experience can be transposed to the Internet environment.
Mr Andres Franco, deputy director, Private Fundraising Partnerships, UNICEF, shared that much of UNICEF's growth in the area of COP has been due to a partnership with ITU. He pointed to a shift of thought in COP from believing anyone under 18 requires special protection towards guaranteeing the exercise of their online rights as minors. According to Franco, UNICEF's teams rely on global partners to make their COP initiatives work. He criticised the belief on an 'everything online' panacea, in which people believe that bringing children online will suffice for online education, when actually many important dynamics happen in the classroom.
Mr Stein Schjolberg, ITU High-Level Expert Group chairman, expressed his concern with online sexual abuse of children. According to Schjolberg, the expansion of global communications has also increased the frequency of sexual abuse online of children and child pornography. He mentioned Interpol guidelines as a good reference. Although he believes each state must decide based on its culture and values, the UN must establish minimum rules for COP.
Mr John Carr, senior advisor, ECPAT International, presented the work of ECPAT in fighting the worst kinds of abuse suffered by children online globally, such as child pornography, prostitution, and sexual abuse. One of the NGO's main concerns is identifying and finding the children seen in images gathered by Interpol during their investigations. They have been able to locate 12 000 children so far. Carr believes intermediaries should show they have made an effort in creating tools to fight child online abuse if they wish to maintain safe harbour legal immunities granted by most legislations.
Ms Rym Abdulla Al Falasy, secretary general, The Supreme Council for Motherhood and Childhood, United Arab Emirates (UAE), presented the efforts of the UAE in COP. According to Al Falasy, the government has created a global taskforce, hosted several conferences, and created websites providing information on the matter, as well as other awareness-raising initiatives for children and parents.
Dr Ibrahim Mohamed Jasim Aldabal, chairman, ITU Working Group on Child Online Protection started by congratulating the work done in previous COP initiatives. He highlighted the differences between the Internet of ten years ago and the Internet now, which is much more reliant on mobile connection. Aldabal expressed his concerns with drug issues and the difficulty in controlling technology. He believes the empowerment of children, parents, and teachers is the key to fighting COP problems. One of the tools being adopted by the UAE government is gaming.
Mr Deepak Maheshwari, director, Government Affairs, India and ASEAN Symantec, began by explaining that COP is a much broader subject than just sexual abuse. He questioned the rules and norms regarding the use of the Internet by children. Maheshwari presented different approaches that involve creating safe zones with black-and-white lists. He advocated in favour of privacy by design and security by default.
By Pedro Vilela
Related event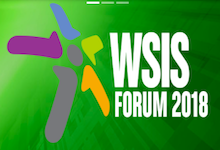 WSIS Forum 2018
19 Mar 2018 09:00h - 23 Mar 2018 18:00h
Geneva, Switzerland