Using ICTs to support development opportunities by building an online brand presence for small and emerging businesses
12 Jun 2017 09:00h - 10:45h
Event report
[Read more session reports from WSIS Forum 2017]
Ms Lori Schulman (Senior Director, Internet Policy, INTA, United States) moderator of the session, explained the work of the International Trademark Association (INTA) in empowering sustainability through ICT development. Talking about the different platforms to be presented during the session, she added that once platforms are developed, branding becomes the significant factor. Good branding means good sustainability.
Ms Fatima Amehri (President, Association Marocaine de l'Indication Géographique de l'Huile d'Argane (AMIGHA)) talked about the Moroccan union of women producers of Argan tree oil. This union provides e-commerce platforms for the oil producers. Production has always been done by women, but this is a first time in 50 years that there is a women's cooperative in Morocco. This virtual platform for e-commerce is supported by the Tunisian government and it has produced more that 60 million dollars in exports during the last years. There is also a social benefit from this process because everyone works together, socialising and exchanging their know-how. In her words, the association is using geographic indicators in order to protect the geographic origin related to the Argan tree. This protects the producers, but also the consumers, by providing the same or better user experience from using this product. Ahmeri emphasised the importance of empowering female communities around the world.
Schulman added that all three initiatives presented at the panel are important as showcases of empowering the entrepreneurs today to send a clear message about their products.
Ms Maxine Moffatt (CEO and Founder, Bridge Africa, United States and Africa) talked about the service which received the WSIS 2016 award. She started her presentation by emphasising the importance of being recognised on the Internet prior to becoming successful. The digital divide evolved in Africa, not in terms of connectivity, but rather in reference to the creation of content. Mobile penetration has reached 85 percent in Africa now. People might have a mobile phone, but not all of them have mobile credits. Entrepreneurs often make much less than people who market their product. Bridge Africa produced an application that allows people to create websites and access their databases through Internet as well as through messaging. One can send a short message and create a website (it is not built on a unique domain name, but rather a page with one's personal information). It can also be used as an access point to all of the data posted on the platform. There is no need to be online for this. Using this programme, more companies have now patented their work, created trademarks, and created awareness of their products.
Moffatt added that there are some downsides to e-commerce development in Africa. The first is a still-high cost of transportation, and the second one is how to connect your business to some means of online payment (such as PayPal or GoogleWallet). Even so, Bridge Africa is building another service in Cameroon as an export association, which is already making 300,000 USD in exports. All products are certificated by the Cameroon government, which is necessary to move products outside the country.
Mr Andrea Gerosa (Chief Thinker and Founder, Think Young, Europe and Asia) explained that the Think Young association is doing research on millennial entrepreneurs in Europe and Asia. They carried out a specific research in the field of young entrepreneurs, collecting their opinions on the Paris Agreement. Climate change was considered to be an opportunity rather than a challenge. In his words, their flagship programme is a school for entrepreneurs. From their research they found out that the start-up approach towards branding is twofold. One half is awareness of the importance of branding and trademarking your business even before you have a good product. New generations see branding as more important, but we need to make sure what the right steps for building it are. More and more people will start creating their own companies due to the easy process nowadays.
Schulman added that there is indeed a difference between today's trademarks industry, and the one 60 years ago. It used to be that the product came first and the trademark came second. Some products even lost their identity (like aspirin, which was originally a trademark), so she asked the panellists what they are doing to protect their names and trademarks.
Amehri explained that they had a case of someone misusing the name of Argan oil and they were banned from using it. This dispute was resolved through the INTA.
Gerosa added that they are not doing much about finding out whether anyone uses their name, and would not know what to do. They actually registered as many relevant domain names as they could afford.
Bridge Africa did have a case of someone registering the bridge.com domain and selling it to Bridge Africa for 6,000 USD.
The moderator added that in this sense and for the promotion of the global sustainability of ICT companies, we should perhaps introduce global regulation in the field of trademarks. Laws are there to protect business owners, but also to protect consumers.
On a practical level, the INTA can deliver onsite courses for young entrepreneurs. The INTA is currently running programmes in the USA and Germany, and, if successful, they will expand to other countries. There are also regional and local chapters of the association working on entry level solutions, if help is needed.
Shulman added that discussion on trademarks and brands needs to be emphasised in contrast to content protection (such as patents and copyright), if we discuss development and sustainability. Trademarks never expire, unlike patents and copyrights. With an ideal outcome we should have a balance of real world solutions with public/governmental policy solutions.
by Arvin Kamberi
Related event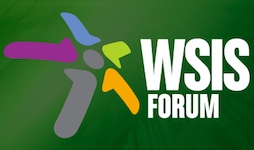 WSIS Forum 2017
12 Jun 2017 09:00h - 16 Jun 2017 17:00h
Geneva, Switzerland