From sustainable development goals SDGs, to unleashing 21st century global goals potentials, part 2
12 Jun 2017 14:30h - 16:15h
Event report
[Read more session reports from WSIS Forum 2017]
The objective of the workshop was to provide scientific and technological solutions for the twenty-first century – a universal 'tool box' which could be replicated globally by nations and states to achieve the Nationally Determined Contributions (NDCs), signed by all governments in Paris at COP-21, before 2030.
The moderator of the session was Phil Konig.
Mr Paul Bristow (Co-Founder, Pangloss Labs) shared about the organisation's bottom-up approach, for creating jobs which match with the sustainable development goals (SDGs). Built using open source, Pangloss shares designs for digital fabrication tools and massive open online courses (MOOCs). He added that Pangloss offers an opensource tool kit for entrepreneurs, including open business models, using opensource hardware. He mentioned the importance of all stakeholders in this model. The design infrastructure provides support to small local experiments which allows them to compete with big entrepreneurs. Bristow also explained the cooperation between living maps and, as an example, Geneva Global Goals Innovation Day. He believes the WSIS stage can help in sharing information about this platform with entrepreneurs.
Prof. Peter Head (CBE FREng FRSA, Founder & Chief Executive Officer, Ecological Sequestration Trust) shared information on their resilience platform (resilience.io), which brokers the gap between deploying capital and delivering planned cities using their knowledge of global systems. He disclosed that using these developing tools and demonstrations could reduce the cost of 2030 agenda implementation by 40%. It is an opensource digital platform, where data can be loaded from anywhere, in order to look at scenarios of change and then be guided by the findings. The tool he shared helps in making risk-based decisions which are linked to global goals and indicators.
Responding to a question on involving the Millennials, Head acknowledged that they are missing from the dialogue and need to be connected with and engaged.
Mr Laurence Reginald Maitre (World Bank of Happiness) explained how the current needs of humanity and the SDGs can be solved using the World Bank of Happiness platform, which believes happiness can generate happiness.
Prof. Yuko Murayama (Vice President, IFIPTM), shared the importance of ICT for resilience, and disaster risk reduction (DRR) in terms of human rights. She pointed out that ICT needs to help human rights at each phase of a disaster. It should be transformational, mobilising systems and providing unique support to supporters in times of disaster. She went on to explain the importance of using standard formats using open software, sharing knowledge, and using known systems and easy localisation. In times of disaster, trust is paramount. Other important factors are speed and rhythm.
Mr Pascal Kotté (Intergen Digital), spoke about how to fix the digital divide by providing a platform for people, especially older generations, to connect and learn through self-help between generations. This is currently conducted once a month in cities where people reconnect and learn from each other. The platform helps to fix the issues of digital natives and encourages their children help them. He also shared details of the Mapathon initiative.
Mr Alan Dean (Founder and MD, Burning2Learn UK Limited) spoke about motivating tomorrow's adults today and the role played by Burning2Learn. Collaboration, he believes, is key as is the need to understand how to deliver the SDGs. It is important to help young people to understand the SDGs and develop makers not takers. Burning2Learn teaches young people how to learn, how to solve problems so that they are equipped for the future. Responding to a question from Kotté on how to improve the secondary education system, Dean responded with sharing. He advocated giving skills to schoolchildren to learn how to solve problem, then give them projects and change their mindsets.
Countering a comment by Head that the weakest part of the human brain is that which deals with change, a member of audience shared that Millennials are more adaptive.
by Amrita Choudhury
Related topics
Related event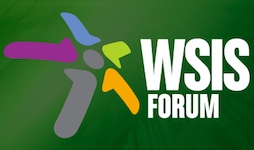 WSIS Forum 2017
12 Jun 2017 09:00h - 16 Jun 2017 17:00h
Geneva, Switzerland