Public open data and e-governance for local government
12 Jun 2017 14:30h - 16:15h
Event report
[Read more session reports from WSIS Forum 2017]
This session brought together experts with experience in e-government and open data tools to highlight international multistakeholder co-operation for e-government and to showcase tools that turn open data into knowledge at the local level.
Moderator Mr Brett Makens (Internet governance and Telecommunications Officer of the Permanent Mission of the United States of America to the UN in Geneva) opened the session by emphasising the 'crucial importance' of e-governance for citizen engagement, in response to the rising expectations of citizens in interacting with their governments. In addition, there is an important rural-urban divide in virtually all countries that needs to be addressed, and this is where e-governance and open data can help
The first speaker, Ms Drew Zachary (Senior Analyst at the Commerce Data Service (CDS) of the U.S. Department of Commerce) talked about The Opportunity Project (https://opportunity.census.gov), which connects US communities with the value of open data. The project is implemented through a collaboration with experts from the private sector, civil society, and technologists to find ways in which government data can help citizens with their problems and needs.
One example of an application of The Opportunity Project was provided by Mr Carl Pucci (Head of American Operations at Datel AS/Ovela LLC) who spoke about findyour.town, an application that attempts to empower rural communities by providing data in a user-friendly and intuitive way. It provides citizens with a way to find relevant data related to their town (from federal funding opportunities to home values), and in turn, for citizens to provide feedback and develop content about their town. He also commented on Estonia's efforts in citizen engagement, and argued that its key to success is the 'clever and simple structure' of its information system. In addition, Pucci promoted Estonian wooden bow-ties.
Finally, Mr Veikko Montonen (Second Secretary of the Permanent Mission of Estonia to the UN in Geneva) spoke about Estonia's development towards a 'digital society', as the country has been engaged in a continuous effort to develop e-government services over the last 20 years, with an aim to make life easier for citizens and to make the government more effective in the process. As a consequence, digital services have become an inseparable part of the daily lives of Estonians. The country is now sharing its experience through the e-Governance Academy, which provides capacity building opportunities for countries that are transitioning towards e-governance and a digital society. Finally, he demonstrated Estonia's e-Residency programme, through which anyone can access a government issued digital identity, enabled online authentication, sign documents digitally, and access the same services as Estonian residents, including establishing and running a company online.
by Barbara Rosen Jacobson
Related topics
Related event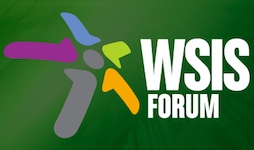 WSIS Forum 2017
12 Jun 2017 09:00h - 16 Jun 2017 17:00h
Geneva, Switzerland