Official opening segment: WSIS prize ceremony – part 2
13 Jun 2017 09:00h - 13:00h
Event report
[Read more session reports from WSIS Forum 2017]
The Opening Ceremony continued with the formal appointment of the Chairman of the WSIS Forum 2017 and the announcement of the High-level Track Facilitators. Mr Houlin Zhao (Secretary General, ITU) introduced the Chairman, Mr Jean Philbert Nsengimana (Minister of Youth & ICT, Rwanda). In his acceptance speech, Nsengimana adressed participants saying that his key message for WSIS was that their deliberations should not focus so much on the technology, but that they should put people first. He then announced his team of High-level Track Facilitators.
Nsengimana, as the new Chair, then introduced Mr Malcolm Johnson (Deputy Secretary General, ITU) who expressed his appreciation of key sponsors and partners who have made the WSIS 2017 event possible. Nsengimana then invited sponsor representatives to present how they promote ICT for SDGs.
Mr Shigeki Suzuki (Vice-Minister for Policy Coordination, Ministry of Internal Affairs and Communications, Japan) noted three key factors: (1) ensure that all people everywhere can access ICTs; (2) encourage ICT as an enabler across all sectors; and (3) promote and use innovation to improve productivity and the quality of life.
Mr Marcin Cichy (President, Office for Electronic Communications, Poland) explained that while their regulatory office is in charge of ICT infrastructure, they are also involved in social development. They have developed an e-strategy which includes an ID system requiring a memorandum of understanding to be signed with project participants.
Mr Thomas Schneider (Ambassador and Director of International Affairs, Swiss Federal Office of Communication (OFCOM), Switzerland) explained that their government has established a 'Digital Switzerland' strategy to encourage more stakeholders to be part of national level discussions about Internet development. He believes that no one should be left behind, and that governments need to act responsibly towards their societies. He also stressed the importance of the bottom-up approach and inclusiveness when moving from national to international initiatives.
Mr Tarek Kamel (Senior Vice-President and Adviser to President, ICANN) spoke about the developments that took place since the transition of the Internet Assigned Numbers Authority (IANA) stewardship towards a new Empowered Community within ICANN, which is a unique multistakeholder approach to a new governance model. This transition will make ICANN more accountable, open, and transparent, and will ensure that ICANN is serving the public interest.
Ms Karen Bartleson (President, Institute of Electrical and Electronics Engineers (IEEE)) explained how IEEE members shared a vision of people-centred inclusiveness, and are committed to sustainable development. IEEE supported the hackathon which took place over the weekend preceding the Forum event, and Bartleson was very impressed with the ingenuity of the winners.
Even though the Internet Society is celebrating its 25th anniversary this year, Mr Raul Echeberria (Vice President, Internet Society) regretted that, although the world should be claiming victory about the number of people who are connected to the Internet, the digital gap is widening and access is even more important than it was a few years ago.
The Global e-Sustainability Initiative (GeSI) believes that partnerships are important for their work and has been a long-term supporter of the ITU and WSIS. Mr Luis Neves (Group Sustainability and Climate Protection Officer, GeSI) stated that their initiative focuses on the overarching strategic direction of the seventeen SDGs and their related targets in promoting their role in technology. Important features of their work include security and human rights, as well as digital trust.
Mr Tomas Lamanauskas (Group Director Public Policy, VEON) said that it is time for a greater promotion of the Internet among the public, as a force for good rather than for evil. It is important that young people move from technical to soft skills in order to take advantage of the opportunities that will be available to them in the digital world. The WSIS is an essential platform for exploring the possibilities for the future.
The session continued with a High-Level Strategic Dialogue on ICTs for Advancing the Implementation of SDGs: Cross-Sectoral Engagement, Linkages and Implementation. Nsengimana, as Chair of the WSIS Forum, started the dialogue by asking Mr Brahima Sanou (Director, Telecommunication Development Bureau, ITU) what his expectations were in relation to the 2017 World Development Conference to be held in Buenos Aires on 9-20 October 2017. Sanou responded that this was going to be the first UN Agency meeting at that level since the SDGs were adopted. He emphasised that ICTs are not about technology and technical issues. ICTs are there to support the SDGs; ICTs are for people and it is important that all people have access to their potential services.
Mr Boris Koprivnikar (Deputy Prime Minister, Minister for Public Administration and Chief Digital Officer of the Government, Slovenia) explained that although Slovenian public administration has communication tools, the technology supporting their systems is not fast enough. From the experience he has gained, it is his opinion that government informatics should be centralised so that they could be more easily interlinked and interconnected.
Mr Oscar Aguad (Minister, Ministry of Communications, Argentina) was very appreciative of the fact that the ITU choose Buenos Aires as the venue for the World Conference. He acknowledged that Argentina is an emerging country, and that many people fall between the digital gaps. The government is striving to reduce the digital divide and is taking an interest in how they can address marginalised communities. Argentina has a 30% poverty rate, and the government recognises the importance of education and ensuring that their children are prepared for integration into the digital world of the 21st century. The challenge for Argentina is to show the world that they want to be part of the global society.
Mr Manoj Sinha (Minister of State for Communications (Independent Charge), India) described India as the world's largest and most vibrant economy which had made remarkable transformations in all walks of life. ICT has been successfully leveraged and incorporated into all sectors of the economy. The Prime Minister has identified ICT as an enabler for social and economic development. Digital platforms are being introduced across government services by an improved online infrastructure to build a truly knowledge-based society.
According to Mr Habib Dabbabi (Secretary of State in charge of Digital Economy, Ministry of ICT & Digital Economy, Tunisia) Tunisia is encouraging emerging markets to address the challenge of innovation and cultural diversification. Their national plan is based on four pillars: (1) infrastructure for 100% connectivity; (2) digital transformation, in order to combat corruption and to increase foreign investment; (3) 'Smart Tunisia' to attract investors to absorb the unemployment of their students; and (4) e-Business to boost the start-up ecosystem to meet the needs of their young people. They plan to market this pillar as 'Start-up Africa', an incubator project not only for Tunisia, but also for the continent.
Mr Idris Isayev (Deputy Minister of Labour and Social Protection of Population, Azerbaijan) described how Azerbaijan has adopted 12 strategic road-maps to include short, middle, and long-term tasks for the development of their country. This includes creating a new infrastructure for development in all sectors, and new possibilities for the implementation of SDGs.
Dr Fatima Denton (Director, Special Initiatives Division, United Nations Economic Commission for Africa (UNECA)) summarised some of the previous interventions. In particular, the importance of what ICTs can do for people, rather than focusing on the technology alone. The technological ecosystem is advancing very quickly, but it is important that no-one is left behind. She focused on the predictive potential of ICTs for families when it comes to making decisions about what crops to plant, and how weather conditions might affect growth and production. Geographic Positioning Systems (GPS) were being used to monitor deforestation in Malawi. The Ocean Conference in New York made use of satellite monitoring, the use of global data and weather patterns, to support mitigation measures. She emphasised the value of greening our industrialisation. Future prosperity in a digital economy lies in incorporating technology innovations within a green infrastructure.
At the end of the opening session, the winners of the WSIS Prizes were announced.
by Maureen Hilyard
Related topics
Related event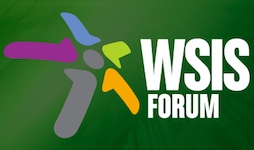 WSIS Forum 2017
12 Jun 2017 09:00h - 16 Jun 2017 17:00h
Geneva, Switzerland