Multilingualism: Enabling access to the knowledge society
12 Jun 2017 14:30h - 16:15h
Event report
[Read more session reports from WSIS Forum 2017]
The session, organised by the Permanent Mission of Latvia to the UN and Other International Organizations in Geneva, was devoted to language in the information and knowledge society. Language is as essential for our being as water, argued moderator Dr Andrejs Vasiļjevs (CEO, Tilde, Latvia). At the same time, support for a language is determined by inclusion or exclusion from the knowledge society. If our language is not supported by technology, stressed Vasiljevs, we cannot participate in information, communication, knowledge sharing, and knowledge creation. He reminded the session that English currently represents only 30% of Internet content. In fact, there are more than 6000 languages spoken on this planet, many of which are not sufficiently represented in ICT.
Ambassador Jānis Kārkliņš (Permanent Mission of Latvia to the UN and Other International Organizations in Geneva) stated that for the international community, the global conversation in the UN context about multilingualism actually started in Geneva in the first phase of WSIS. The question of linguistic diversity was already present at that time and it was clear that preservation of this diversity was essential. Today, the Internet has grown tremendously and although it still predominantly speaks English, 25% of its users speak Chinese, and Spanish is the second-most popular language. We do not necessarily have multilingualism present in the technical infrastructure, namely the domain name system, argued Kārkliņš. Therefore, the issues should be divided to multilingual content issues and the structure of the Internet system, with ICANN having introduced internationalised domain names (IDNs). After the first spike, however, interest in IDNs seems to have dropped.
Mr Indrajit Banerjee (Head of Knowledge Societies Division, UNESCO) concentrated on multilingualism within the context of the sustainable development goals (SDGs). He argued that language diversity is often ignored. For instance, in the millennium development goals, multilingualism was not mentioned at all, while the SDGs have only a brief mention. Banerjee reminded the session that according to some estimates, half of languages spoken currently will disappear by 2050. A language is endangered when users cease to use it. However, Internet does not need to be seen as a threat to language diversity, but as a tool for preserving it. Multilingualism in cyberspace is a crucial topic. This is why UNESCO works in this respect on endangered languages, offering a more comprehensive view on the world languages.
Mr Marco Marsella (Head of the Learning, Multilingualism, and Accessibility at the DG Connect of the European Commission (EC)) elaborated on the focus of his department, tasked to work on multilingualism. The EU treaty itself established equality for all languages of the member states. However, providing services across languages is difficult, claims Marsella. Only a limited number of websites offer services in more languages and that is an issue when it comes to Europe. It presents limitations on e-commerce, for instance. Therefore, the focus of the EC is on language technology. This constitutes a huge market with an excellent innovation element. Market-wise, this is important (€16 billion in revenue comes from language technology).
Mr Joseph Mariani (Research Director Emeritus, LIMSI-CNRS; Honorary President, European Language Resource Association) summarised some findings of his organisation's research for the EC. He noted that although the budgets the various EU institutions use for translations amount to €1.1 billion per year, this amounts to only €2.20 per European citizen. In the European Digital Single Market, it is clear, said Mariani, that if a European consumer does not understand, they will not buy. Multilingualism is necessary, but cost is a very important factor.
Ms Sabine Kirchmeier (Head of the Danish Language Council, Vice-President of the Executive Committee of European Federation of National Institutions for Language (EFNIL)) connected to the session remotely. EFNIL provides a forum of exchange on languages in the EU and promotes language cultural diversity. She commented that international conferences, as an example, visibly represent the problem of multilingualism – having a universal language that is understood by everyone is important. However, the use of a language as a lingua franca comes at a price. Language is more than a communication tool; it is closely connected to the people who use it. If other languages are used only casually, they will die. The more you use the language, the more it grows, concluded Kirchmeier.
by Tereza Horejsova
Related topics
Related event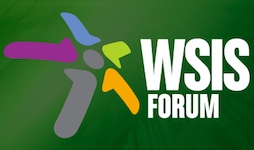 WSIS Forum 2017
12 Jun 2017 09:00h - 16 Jun 2017 17:00h
Geneva, Switzerland