Innovation in ICT technologies, broadband, smart cities and manufacturing for sustainable development goals
15 Jun 2017 11:00h - 13:00h
Event report
[Read more session reports from WSIS Forum 2017]
The session, moderated by Prof. NK Goyal (President, CMAI Association of India), sought to explore innovation in ICTs, broadband, smart cities and manufacturing for sustainable development goals (SDGs).
Dr Ej Kim (Head Innovations, International Telecommunication Union (ITU)) opened the discussion with her presentation on ITU goals. She emphasised that these goals aimed to promote growth, inclusiveness, sustainability, innovation, and partnership. Kim pointed out that in order to grow the innovation divide, it was vital to include stakeholders in the innovation ecosystem.
In his presentation, Dr Bharat Dave (Alphion) touched on the aspect of optical access for broadband highways. Bharat noted that ensuring urban and rural digitisation, setting up a national information infrastructure, and setting up smart cities would result in more opportunities for businesses, a factor that would lead to empowerment by digitisation.
He gave a case study of a rural broadband centre and a solar powered centre, whose mission was to empower entrepreneurs in India.
Mr S K Chartuverdi (IAS Chairman, CBSE) stated that India was the fastest growing economy, and was projected to surpass China in the course of this year (2017). He mentioned that India's connectivity infrastructure was improving, and that there were measures in place to reduce bottlenecks. Chartuverdi further pointed out that the government of India was committed to offering incentives and subsidies to companies manufacturing locally in India. The incentives, totalling 50%, were aimed at assisting manufacturers to develop their infrastructures to increase production.
Mr J S Deepak (India's WTO Ambassador) discussed the partnership India had had with the ITU. This partnership, he said, would catalyse India to strive to SDGs.
He also praised the innovation flagship project that Narendra Modi, Prime Minister of India, was steering. Deepak believed that this initiative would impact 60,000 Indian villages and thus immensely revolutionise the telecommunications industry in India.
Prof. Tim Unwin (Geography Professor, University of London) called for the development of innovations that would serve in the interest of the marginalised, as well as the LGBT's agenda.
Mr A K Gupta (CMD, TCIL) lauded India for the tremendous success it was achieving in developing its digital identity. Gupta felt that India's model should be adopted as a global standard by the ITU. He urged ITU members to pool together and work with India, in efforts to adopt some of the best practices for scaling the world over.
Mr Shri Sanjay Kumar Rakeesh (IAS Joint Secretary, Ministry of Electronics and IT, India) stated that incentives and funding of ICT innovations was key in spurring growth, creating smart cities, and thereby digitally empowering societies. He called for self-sustainability of turnkey projects globally to help narrow the digital divide gap and foster development.
Mr Shri Suneet Singh Tuli (CEO, Datawind) stated that Datawind, a developer and manufacturer of low-cost tablet computers and smartphones, entered the Indian market in 2011 with a mission to allow access to the Internet in India at lower data costs and faster speeds across mobile wireless networks. As of today, he said, the company had gained 34% of India's market share. Shri continued by saying that this had resulted in a great increase in data consumption in the country.
The guest panellist Mr Abdur-Raheem Adebayo Shittu (Nigeria Minister of Communication) hailed India's efforts towards achieving SDGs. Adebayo Shittu pointed out that India was in the process of according the Federal Republic of Nigeria a loan geared at improving Internet connectivity. Further, he revealed that the government of South Korea had granted Nigeria $560 million for ICT capacity building. He raised an open call for public private partnerships in Nigeria, to aid in connecting universities and government agencies.
by Bonface Witaba
Related topics
Related event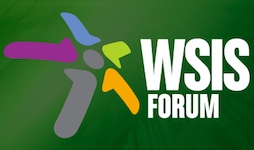 WSIS Forum 2017
12 Jun 2017 09:00h - 16 Jun 2017 17:00h
Geneva, Switzerland