Information session: IGFSA's role in promoting national and regional IGF initiatives
12 Jun 2017 13:15h - 14:00h
Event report
[Read more session reports from WSIS Forum 2017]
Mr Markus Kummer (Chair, Internet Governance Forum Support Association (IGFSA)) opened the session by introducing fellow executive committee members, Ms Marilyn Cade (mCADE) and Mr Tarek Kamel, (ICANN, Vice President). Also present was Ms Jennifer Chung (DotAsia and IGFSA Co-Secretary).
Kummer opened the session by explaining how the IGFSA was established in 2014 at the 9th IGF meeting in Istanbul, Turkey. Its purpose is to support the global IGF and its Secretariat. It also provides valuable funding and in-kind support for national, sub-regional, and regional IGFs.
Cade expressed pleasure at being able to engage with national and regional IGFs and described her own role in catalysing a national IGF in the United States. She noted that it took three years of holding half-day preparatory sessions each year to build awareness about the importance of a national level IGF initiative. Cade promotes IGF initiatives through her encouragement of high-level actors to support and participate in national or regional IGF events. She distributed a two-page brochure about the work of the IGFSA.
Kamel was also pleased to offer the support of ICANN to encourage the growth of IGF involvement at regional and national levels. ICANN has an interest in helping multistakeholder Internet governance systems grow, especially in underserved regions and technical communities. He was also impressed by the fact that the initiatives are growing from the bottom up and that governments are generally in support of initiatives within their countries. He sees ICANN's challenge as trying to keep up with the pace of what is happening in the regions. This great work within communities reflects the strong growth of the Internet ecosystem.
Chung provided an update of the work of the Asia Pacific regional IGF (APrIGF) and the support given to both the regional and global IGF by DotAsia. Ms Maureen Hilyard (Cook Islands Internet Action Groupu) gave an update on the recent Pacific IGF which was held in Vanuatu recently, and the proposed APrIGF which will also be held in Vanuatu in 2018. Other updates were provided by Ms Anja Gengo (IGF Secretariat) and Mr Wisdom Donker (Ghana IGF).
by Maureen Hilyard
Related topics
Related event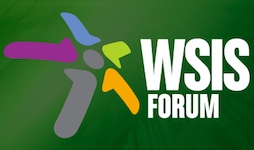 WSIS Forum 2017
12 Jun 2017 09:00h - 16 Jun 2017 17:00h
Geneva, Switzerland